Fairfax County Budget Cut
In February, Insight Memory Care Center was informed that a recommendation is being made by the Board of Supervisors to cut our $300,000 funding agreement with Fairfax County by 50%, with the final decision on May 2, 2017.
Our staff and board have jumped into action trying to figure out how this will affect our FY18 budget, programs, and most importantly, the families we serve. Our finance and development committees are looking at all options if the proposed $150,000 budget cut is approved.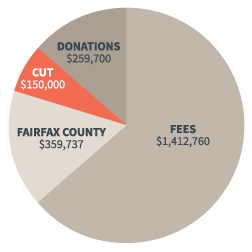 IMCC is extremely grateful for all the support it has received from Fairfax County over the last 10 years, including rent subsidy and funding from the Consolidated Community Funding Pool. While we understand Fairfax County is facing a $55M deficit, IMCC is serving a vulnerable population suffering from a degenerative, fatal disease, and the loss of this funding would greatly affect our organization and the people we serve. Our adult day center often runs at full capacity, keeping in mind we also receive a significant number of transfers from the Fairfax County Adult Day Health Centers, where the participant's needs are unable to be met in that environment. Insight has received this funding at a constant rate, without any increase over the last ten years, yet the number of individuals we have served has increased by nearly 100% during this time.
If this proposed reduction is approved, IMCC is looking at alternative ways to meet the needs of this population, while still providing the high quality level of service we have become renowned for. This cut would result in higher fees, and more importantly the inability to serve low income individuals who desperately need our services, and our help. All of this impacts Fairfax County as a whole, and as reported recently by the Northern Virginia Community Foundation, the need for services for the aging population is only growing. We often say, until there is a cure, there's IMCC. With this proposed reduction, we will ultimately be forced to serve fewer people.
If you have any questions please contact Robin McGlothin at robin.mcglothin@insightmcc.org or 703-204-4664.
How You Can Help!
Reach out to your Fairfax County Supervisor (fairfaxcounty.gov/government/board/) and let them know that this proposed cut will greatly affect Insight Memory Care Center and encourage them to vote against cutting the $150,000 from Insight Memory Care Center.
| | | |
| --- | --- | --- |
| Here is a sample letter you can use to call, email, or mail your Fairfax County Supervisor in support of IMCC. | Support Insight through your gift of any size. Your generosity can help us provide care for all in need in our community! | Sign up for our enewsletter to stay up to date on the budget cut, as well as the happenings at IMCC! |