Jessica Peters, Assistant Director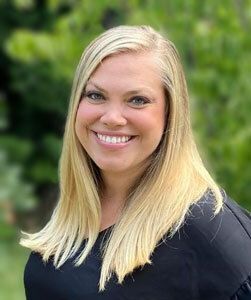 Jessica Peters is the Assistant Director at Insight Memory Care Center in Fairfax. Beginning as a recreation therapist in 2006, Jessica felt called to senior living in where her roles advanced in responsibility. Her natural ability as a leader and her genuine love for older adults shines through each day as she's fulfilling her calling.
Born and raised in Arlington, VA, Jessica attended Brigham Young University. There she earned her Bachelor of Science degree in Therapeutic Recreation and Recreation Management, with a minor and certification in Gerontology. She then continued to receive a Master of Business Administration in Healthcare Administration. Jessica is also a Licensed Assisted Living Facility Administrator (ALFA), Certified Dementia Practitioner (CDP), and Certified Therapeutic Recreation Specialist (CTRS). Jessica strives to make a difference in the day-to-day lives of those affected by dementia.
What's New at IMCC
"I feel blessed to have lived near IMCC so my husband could participate in such a caring, comprehensive program."