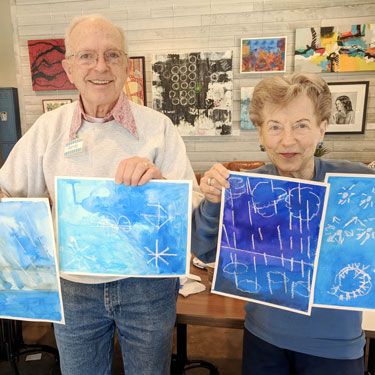 At Insight Memory Care Center, we are always looking for ways to provide new and unique programming for our participants and families. Sometimes that means developing our own programs here, but other times it means reaching out for help! The Memory Café at Famille is a prime example; our partnership with Falls Church Arts, The Kensington, and Famille has developed an exciting, and truly unique program!
Now operating twice a month, the Memory Café at Famille is a social and recreational gathering of individuals with memory loss and their caregivers, friends and family. At the most basic level, they can socialize in the company of others who can relate without explanation, relax without feeling misunderstood, and share freely without fear of judgment. What makes this Memory Café unique however, is the wide range of engaging activities offered, all designed specifically for individuals with memory impairment and their loved ones to enjoy.
Creative Expression Teaching Artists at FCA provide varied arts programming for memory café participants. One week might have guests creating unique watercolor cityscapes, while the next they participate in a crocheting project. Insight staff, all highly trained in dementia care best practices, lead additional cognitive programs and fitness activities. Staff teaches fun exercises that can be modified to do at home too!
Response to the program has been overwhelmingly positive. Katelyn Sloan, Director of Recreation at Insight shares, "It's great to see a welcoming, safe place where people can share in a community activity together. Projects are adapted so that they're still simulating, but also modified for the person with memory impairment to enjoy too."
The Memory Café has proved so popular that we at Insight decided to take our partnership with Falls Church Arts one step further. Sally Evans, FCA's art therapist now also provides regular art therapy programs for participants in the early stages of memory impairment at Insight's adult day health center. We are very excited to be working with such talented artists and are looking forward to sharing that experience with our participants.