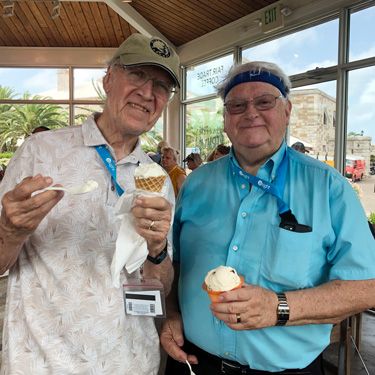 We just completed our 5th Annual Caregiver Cruise! We sailed to sunny Bermuda aboard Royal Caribbean's Grandeur of the Seas. We enjoyed the sights, great weather, and a fun, supportive vacation.
One of the best parts of the cruise is that families can actually have time to relax. Insight does all of the planning and preparation so that families can just show up and enjoy! As one caregiver shared, "I really appreciated a group that could take care of each other, so we didn't have to do it all ourselves, because it's getting more and more difficult to travel, but it was so well planned and a great respite for both of us."
Of course, we had plenty to keep us busy too! Whether it was getting to enjoy the sands of Horseshoe Bay, take in the sights on a glass bottom boat tour, or participating in the Love & Marriage Show on the ship, we had many fun activities to enjoy. Or as a caregiver put it: "We had places to go, things to do, fun people to be with, and a little bit of a break from the routine!"
Insight's first Caregiver Cruise was offered in 2015. We sailed aboard the Grandeur of the Seas down to the Bahamas, allowing 8 couples to enjoy Port Canaveral, Nassau, CocoCay, and Key West. In June 2016 we took another 8 couples on our second annual cruise to New England and Canada. Families enjoyed stops in Boston, Portland, St. John's, and Halifax. For our third annual cruise, caregivers enjoyed the sunny beaches of Bermuda. We took a glass bottom boat tour, got our toes in the pink sand beaches, and explored the city of Hamilton. We also had some time for shopping, sampling rum cake, and taking advantage of all the amenities onboard the Anthem of the Seas. Our 4th cruise had us returning to New England and Canada in July 2018 for lots of sightseeing, seafood sampling, and fun with Insight friends.
The Caregiver Cruise provides a safe and supportive environment to vacation, so that everyone can relax and have a little fun! You can check out all of our adventures on Facebook!