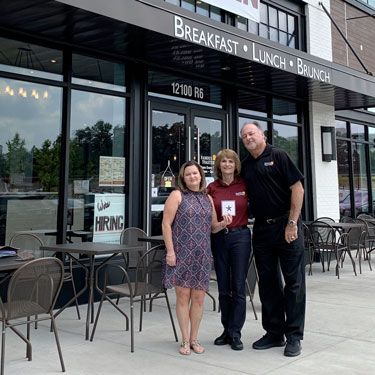 Dementia Friendly Herndon is bringing dementia training in the community, including restaurants! Famous Toastery has officially become the first Dementia Friendly restaurant in Northern Virginia. Diane Reedy is the owner of Famous Toastery, located at 12100 Sunset Hills Road on the border of Reston and Herndon.
This initiative is very important to Diane and her family, as they cared for her mother for many years with dementia. Diane understands the challenges of care partners and their struggle to stay connected, have supportive socialization opportunities, and share joy with their family members. Famous Toastery has large handicapped accessible bathrooms, ample parking and easy handicap access, wide aisles for wheelchair and walker navigation, tables that accommodate wheelchairs with appropriately spaced bases, quiet corners to decrease stimulation and noise for diners, and a menu with upscale, yet traditional dining options including biscuits and sausage gravy, Belgium waffles, club sandwiches and more.
Diane and her team were excited to receive additional training from Dementia Friendly Herndon as they have already had several community members with dementia dine with them. They want to be able to fully support their needs and allow for a pleasant dining experience for all customers.
Karen McPhail stated, "As the restaurant committee chair, I am thrilled to have such a wonderful community partner for Dementia Friendly Herndon and hope that many other local restaurants will follow in supporting these important initiatives!"
Dementia Friendly Herndon, a program of Insight Memory Care Center, is a grass roots initiative to bring awareness of and support for those living with dementia and their caregivers in the Herndon area. For more information on becoming a dementia friendly restaurant, please contact Toni Reinhart at (571) 373-7464 or Toni@ToniReinhartdementia.com