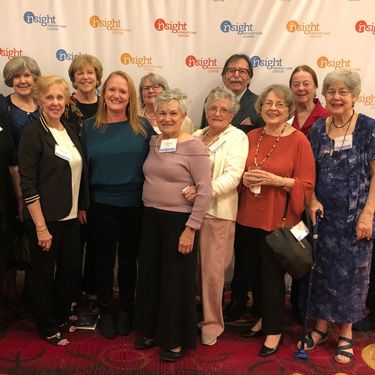 Thank you so much to all of our supporters who joined us in celebrating the care, education, and support that Insight provides to thousands of individuals affected by Alzheimer's disease and other memory impairments in our community each year. Our 8th annual Paintings & Pairings event was held on October 17th at the Fairview Park Marriott with about 350 in attendance. We all enjoyed great auction items, delicious hors d'oeuvres and wine pairings, and a fantastic program, raising over $70,000 for Insight Memory Care Center!
There were many new items for guests to peruse in the silent auction at the beginning of the event. Popular items included event tickets to local theaters and a Nationals baseball game, gourmet beer baskets, and Bed and Breakfast stays. Many also took advantage of the Buy It Now option to snatch up their favorite items before the close of the auction! Additionally, the silent auction featured beautiful artwork from our adult day health center participants, family members, and supporters.
Scot Marken, CEO, shared a welcome and Christi Clark, Executive Director, highlighted several of our newest programs at Insight during our dinner program. For the first time this year, we also highlighted all of the nominees for our Excellence in Memory Care Award, and announced the winner live at the event! Congratulations to Carol Blackwell, and Memory Café 4U as the winner of the 2019 award for your dedication in expanding memory cafes across Northern Virginia. Our additional outstanding nominees also included Encore Choral Sentimental Journey Singers, Marymount University Balance Study, and Sally Evans Art Therapy.
The program certainly wouldn't be complete without a live auction that had several new and exciting items! Many of our returning favorites were scooped up, and we had some exciting new experiences including brunch at the Four Seasons in Georgetown, a Deep Creek vacation home, and Nationals Tickets and signed baseball! We also had a lively Heads or Tails raffle to win over $500 worth of restaurant gift cards!
Michael Bell, an Insight family member and first President of the Friends of Insight, was generous enough to share his story at the conclusion of the evening. He has been caring for his wife for many years, sharing "It has been a journey of 10 to 15 years and she and I have needed all sorts of support, as we have gone from the first signs of depression, confusion, and memory loss to the need for residential memory care. Insight has been with us every step of the way." He also shared more about the Friends of Insight, a group that has come together from these shared experiences to support each other and support Insight. We sincerely appreciate his kind words, and all of our many supporters who made the evening such a success!