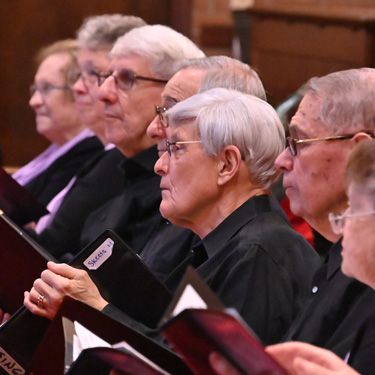 On Sunday, December 1st, the Sentimental Journey Singers concluded their first season with a fantastic debut concert. Held at St. George's United Methodist Church, the chorus sang 6 pieces in total, finishing with their namesake piece: Sentimental Journey.
Since September, Insight Memory Care Center has partnered with Encore Creativity for Older Adults, the nation's largest choral program for singers 55+, to offer a chorus for those diagnosed with early or beginning moderate Alzheimer's and other memory impairments. Singers in the chorus, along with their care partner, learn familiar songs in three-part harmony. Beyond learning vocal technique skills to improve their singing voice, chorus members also enjoy the all-important social aspect of choral singing! As conductor Mary Ann East explained, the chorus helps "let everything melt away and go back to those happy, happy times."
We are looking forward to a spring session of the chorus which will kick-off on January 6th. Rehearsals are every Monday from 2:00 to 3:00 pm, and no auditions are required. Come and join us!