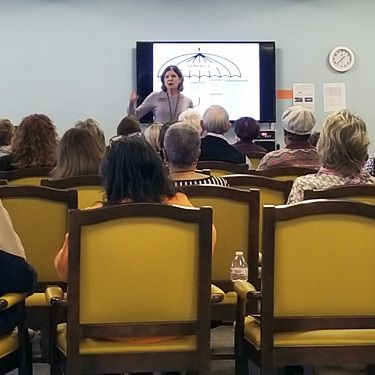 Whether you've made a resolution to learn more about caregiving, or you'd just like to brush up on a specific topic, we hope you'll join us for one of our many education programs this year at Insight Memory Care Center. Here are a few things to look forward to this year:
Classes for Caregivers Series
Offered the third Wednesday of each month, programs are geared with family caregivers in mind. Classes begin with the basics and move through more specialized topics throughout the year.
Jan 15: Normal Aging versus Dementia
Feb 19: The Dementias: What's on the Treatment Horizon?
Mar 18: Virtual Dementia Tour
Apr 15: Getting Your Ducks in a Row: Legal Planning
May 20: How Will We Pay for Care: Financial Considerations
Jun 17: Enhancing Communication with Your Loved One
Jul 15: Are They Doing That on Purpose?
Aug 19: Strategies for Activities of Daily Living Success!
Sep 16: Caregiver's Guide to Understanding Care Options
Oct 21: Hospitalization Happens: Be Prepared
Nov 18: End of Life Considerations
Dec 16: The Art of Friendship in Caregiving
Download the 2020 Classes Flyer
Caregiver Bootcamp
Short on time? Mark your calendars for a Caregiver Bootcamp - a full day training session offering many popular topics all in one place. Bootcamps are offered on a Saturday each spring and fall.
Community Programs
And there's more! We're always trying to get out in the community to assist with educational programs for caregivers. Check our education calendar online or sign up for our newsletter for additional events!