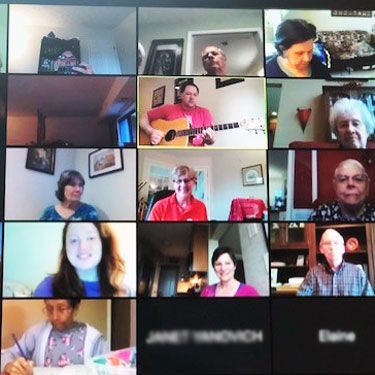 In just a matter of a few short weeks, life is very different. In some ways it feels very isolated, confined mostly to our own homes. Surprisingly, in other ways it can seem more connected, as we meet for virtual happy hours with out-of-town friends, and set up regular facetime calls to check in with family.
Insight looks very different right now. Did you know that while at home our Day Center participants are receiving up to 4 hours of live virtual programming each day? Our early stage Reconnections group has been meeting on Zoom since the first week our center closed. In just about a month's timeframe, we've held 10 virtual support groups, 7 educational webinars for caregivers, and 3 online Memory Cafes. Insight looks different right now, but our community is as vibrant as ever.
And the community is still growing to reach more in need. Two participants have "joined" the center since we've been closed, excited to take part in the virtual programs. One caregiver shared that "these virtual classes are extremely helpful and encouraging. They are a clear blessing in disguise of the pandemic because I might not have time otherwise if I were still going into work."
In the midst of this unprecedented situation, what doesn't look different is that Insight is still doing what we do best: providing care, education, and support to families living with memory impairment. We are still bringing people together.
Visit our Virtual Services to learn more about program opportunities you can take advantage of from home!