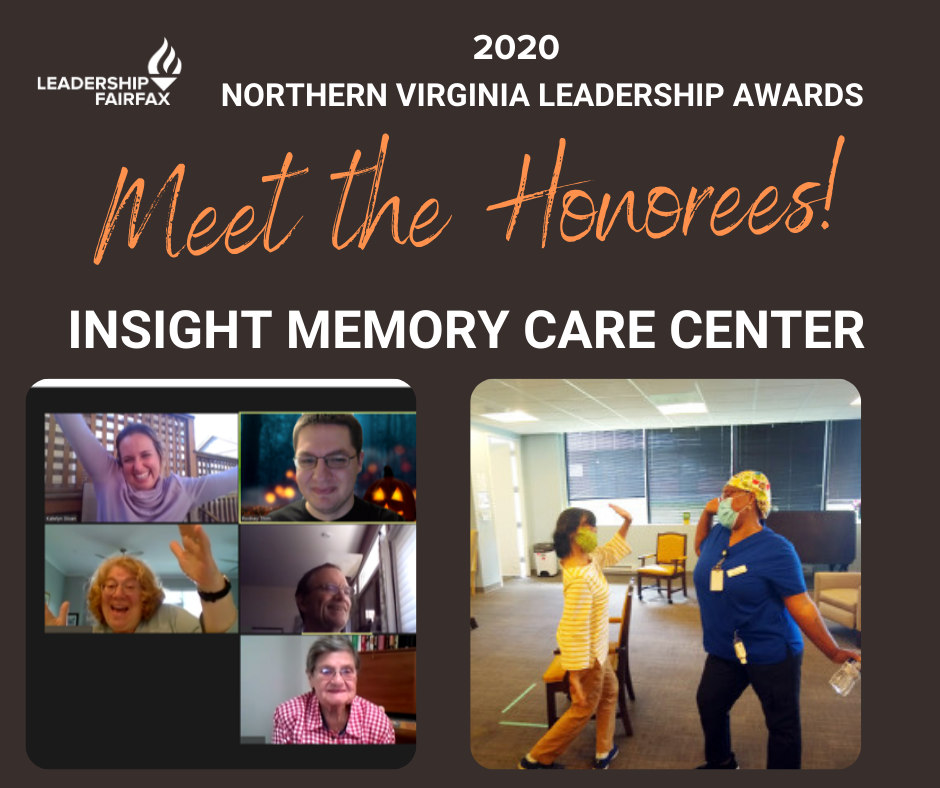 Insight was honored to recently receive a 2020 Northern Virginia Leadership Award from Leadership Fairfax. At their 24th annual event held on December 18th, Insight was recognized along with six other individuals, organizations, and businesses who are making a difference in Northern Virginia.
Insight was proud to be recognized with such a great cohort of community leaders. "We have had to pivot a great deal this year," shares Anita Irvin, Executive Director, "but our primary goal was always to keep the needs of our families first, and figure out innovative ways to keep them connected. I am continually amazed at our staff who took our in-person services and essentially made them virtual overnight. We have all come together to find creative solutions, even add new programs, and continue meeting the needs of our families living with dementia in this especially challenging time."
Insight Memory Care Center exemplifies community building, innovation, and leadership in Fairfax's nonprofit sector and has especially demonstrated these qualities in the face of the COVID-19 crisis. Insight was founded in 1984 and still exists as the only dementia-specific adult day center and resource center for dementia caregivers in Northern Virginia. Insight supports aging in place and keeping older adults with cognitive impairment and their caregivers connected to their community.
Insight is leading the way in Northern Virginia to increase awareness of dementia in our community and build systemic training modules for community organizations around these issues. Insight is a lead partner in the Dementia Friendly Fairfax initiative. Insight serves as the home of the Dementia Friendly Herndon initiative, which began in 2018. During the past fiscal year, Insight served 1,880 individuals in their free family caregiver classes and seminars, and further served 611 people with their support groups.131 volunteers and interns provided 4,367 hours of service in the day center. In 2020, Insight Memory Care provided over $235,000 for families in need so their loved ones could attend the day center program.
Insight Memory Care was further recognized for their flexible approach during the pandemic, modifying services to include virtual programming and safety focused hybrid services. Insight's nomination form shared "Insight has the courage to be a responsive organization, adjusting its innovations to the changing needs of the older adults in our community."
Leadership Fairfax
Leadership Fairfax is Fairfax County's foremost leadership organization. For over 30 years, they have collaborated across sectors to inspire, develop and engage leaders to impact issues facing our local community and the region at large. They echo Insight's sentiment of building a stronger community together.
To learn more about Leadership Fairfax, visit their website at leadershipfairfax.org.