Giving Options
MONTHLY GIVING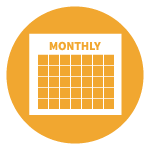 Become a monthly donor today!
Set up a secure, recurring monthly gift today to provide sustaining support to IMCC. Becoming a monthly supporter you are providing a steady and cost effective donation to IMCC. Your gift allows us to better plan our annual budget, provides a predictable source of income, and ensures that IMCC has the resources necessary to support our mission.
You can go to our online donation page right now and set up your recurring gift through your credit card, or if you prefer to donate through your checking account, please fill out the Monthly Giving sign up form.


Benefits of Monthly Giving
Effective
Your gift provides a steady source of income.
Your gift is cost-effective; there is minimal paperwork once your initial donation is set up!
Convenient
Your credit card or checking account does the work for you each month.
You have control of the amount, timing and length of your commitment.
Donor status
You will be listed in the annual report as a monthly supporter.
You are part of a select group of people that care deeply for those with Alzheimer's disease and their families.


Set up your monthly gift today! For more information please contact Robin McGlothin.