Event Calendar
Friends of Insight Meeting
Saturday, July 13, 2019 4:00 pm - 6:00 pm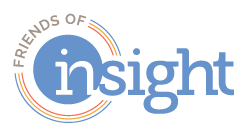 Location:
Paul Hannan's Home
Description:
In lieu of our regular monthly meeting, we will be enjoying a potluck at Paul Hannan's home! Please contact Christi for details.

About Friends of Insight:
Friends of Insight supports Insight through development, volunteerism, and advocacy to maintain and build relationships through social activities. Friends of Insight members are families that have or had a loved one with a diagnosis of dementia and have a connection to Insight Memory Care Center. Their connection could be through attending any of Insight's programs and services. We welcome you to join us!
This form stopped accepting submissions on July 13, 2019 4:00 pm EDT.