Friends of Insight Meeting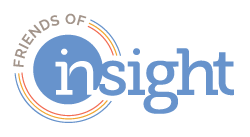 Join us for our monthly brown bag lunch meeting on the second Wednesday of each month. Bring your lunch and catch up with Insight friends while discussing current ways to help out!
About Friends of Insight:
Friends of Insight supports Insight through development, volunteerism, and advocacy to maintain and build relationships through social activities. Friends of Insight members are families that have or had a loved one with a diagnosis of dementia and have a connection to Insight Memory Care Center. Their connection could be through attending any of Insight's programs and services. We welcome you to join us!
Upcoming Events
"Just hearing the name IMCC makes me smile."