Expanding Memory Care in Loudoun
Insight celebrates the Grand Opening of an Early Stage Center in Sterling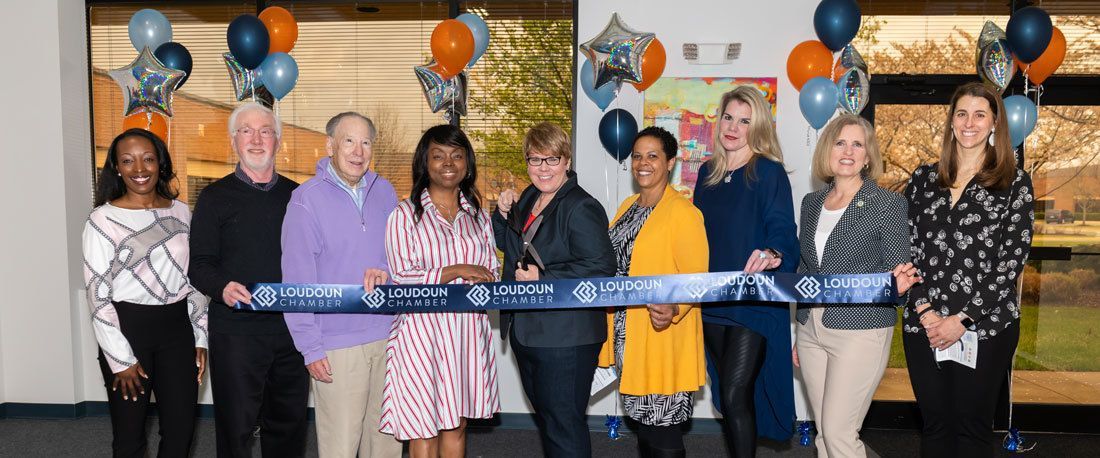 March 31, 2022 - Insight Memory Care Center celebrated a milestone event with the Grand Opening Celebration of its second location, an Early Stage Center in Sterling, Virginia.
For the past 38 years, Insight has provided specialized care, support, and education for individuals in all stages of memory loss, their care partners, and the community. The organization has grown significantly since caring for the first three participants in the basement of a church, and this new center in Sterling represents the first time programs have expanded beyond partnerships and shared spaces to a dedicated, second center.
The Sentimental Journey Singers, directed by Mary Ann East with Encore Chorale, kicked off the event leading everyone in a joyful sing-along. The Sentimental Journey Singers meet every Thursday morning at the Sterling center, giving individuals with early memory loss and their care partners the opportunity to sing in chorus together!
Anita Irvin, Executive Director, welcomed the nearly hundred people who came out; everyone from program participants to community professionals and Loudoun officials. Anita thanked staff and board for their support and commitment to create the new space in Sterling, and the community as a whole for the warm welcome we have received from Loudoun County. She also shared recent thanks from a family care partner: "I took full advantage of the programs. In all honesty, I could not have gotten through this dementia journey without Insight."
Mia DeBarbieri, board member and long-time resident of Loudoun, also echoed this sentiment, sharing our continued commitment to serving families from the beginning of their dementia journey. She emphasized the great need for our programs as the number of older residents in Loudoun County continues to grow.
Additionally, Supervisor Julie Briskman from the Algonkian District, Supervisor Sylvia Glass from the Broad Run District, and Yasmeen Shields from the Loudoun County Chamber shared their thanks and gratitude for the additional services Insight will provide in Loudoun County. And, of course, they provided their support – and extra hands – for the official ribbon cutting!
Insight Memory Care Center - Sterling is focused on early stage care, offering a variety of programs and services for individuals and their care partners. The Reconnections program has been meeting since January, for those with mild cognitive impairment and early dementia. The large open space allows for a variety of activities, from trivia to art projects to social time at the pool table. A highlight of the program is the true connection that participants can build with others in a similar situation – connection that can often become especially needed as friends and family aren't always sure how to respond to a dementia diagnosis. The program offers a chance for peer support and socialization that isn't found in many other places.
Insight Memory Care Center - Fairfax started Reconnections over 7 years ago, today the Fairfax location is operating at capacity and often with a waiting list. "We're so excited to start this next chapter of the program in Sterling. We know it's desperately needed, as people who have just received a diagnosis often don't know where to turn. We're grateful to serve these families, and work with the entire Loudoun community to provide all the resources needed," says Anita Irvin, Insight's Executive Director.
In addition to the Reconnections program, Insight will be offering additional programs for care partners and families at the Sterling location as well. "We know the need goes beyond just the individual with the diagnosis. Care partners and families are impacted as well and can truly benefit from support and guidance as they navigate their journey," shares Lindsey Vajpeyi, Insight's Director of Early Stage Programs. While Insight currently offers many community classes and support groups virtually, plans are in place to offer these additional services in Sterling too.
Additionally, the center includes a gathering area for caregivers to connect and community members to find and share resources. It is a welcoming and comfortable space where care partners can simply wait for an education class to begin or have informal meetings and conversations with others in a similar situation. We saw first glimpses of this today as friends old and new were able to reconnect, catch-up, and celebrate with us.
To learn more about the new location and the programs offered in this space, visit InsightMCC.org/Sterling.
Photos courtesy of Blue Lion Multimedia.
Insight Memory Care Center in Sterling.

Anita Irvin, Executive Director, shares thanks.

Connecting with friends during the celebration!
Blog
"I like that IMCC focuses on dementia-related problems and provides a focal point for families to network and socially interact in coping with dementia. It provides a community that helps us in our struggle."