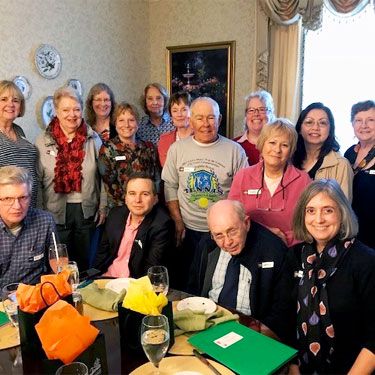 Socialization for people with Parkinson's disease can provide support, community, laughter, camaraderie, a chance to practice vocal skills, and to feel a part of a unified group. Interaction with others dealing with a common illness can offer comfort and help people relate to one another. Sharing thoughts and feelings is cathartic and expressive. Staying socially active in the community can help the mind and body. Being with friends and family boosts our spirits, fights sadness and gives us a sense of belonging. Sharing our information and our personal stories provides alternative perspectives of potential solutions that we may have never known about, had we not come together.
More to Share Than Just Parkinson's
The goal of the Parkinson Social Network (PSN) cafes are to provide a safe space to meet others and share. Our mission is to help make connections - not just connections about Parkinson's - but to share backgrounds, experiences, hobbies, and more. These types of connections help bind people together and strengthen our ability to cope and live well with Parkinson's.
Caregivers - Understanding You Are Not Alone
For many caregivers, it can be very easy to feel alone in their caregiver journey; especially if caregiving is a new role. It is crucial for caregivers to understand that they are not alone in this journey with Parkinson's or Parkinson's disease with dementia. Meeting other caregivers can provide a sense of support. I've personally witnessed at PSN's cafes, caregivers breathe a sigh of relief when they hear a familiar story from another caregiver.
Under Governor Northam's orders, PSN's cafes have been cancelled until June 10th. In this time of social distancing, it's important to find alternative ways to stay connected. Try reaching out to friends and family via telephone, video chat, or Facebook. Take advantage of the many online offerings provided by organizations including virtual support groups, educational and informative webinars, online learning courses, exercise instruction, art programs, concerts and entertainment. Both Insight and Parkinson Social Network have many opportunities listed on their websites!
Authors
Karl Robb has lived with Parkinson's disease for over 30 years. Karl and Angela have been married for 23 years. Active in the Parkinson's community, they have written two books and maintain an award-winning blog at ASoftVoice.com. They are both volunteers and board members of the Parkinson Social Network.