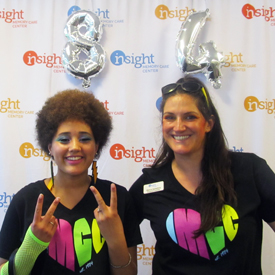 We had a blast looking back, and celebrating the 80s at our 35th Anniversary Celebration. We had so many compliments on our 80s-inspired shirts that we wanted to make them available to you!
We've come a long way since our first days in a church basement! To honor our 35th Anniversary, we celebrated the 80s in style with music, trivia, a Tang and Tab tasting, ice cream truck, and fun with Insight friends old and new.
As we look forward, your support is helping to move Insight into its next chapter. Insight continues to explore partnerships throughout the community that will allow us to bring our early-stage programs to more locations across the region. Our education and support programs are poised to continue to grow, touching more families and caregivers that desperately need support. Finally, Insight will continue to explore the need for a second day center in the area, bringing much needed respite to other areas of our community!
With your support, we can continue to care for families in need  well beyond our 35th anniversary!