Insight Memory Care Center - Fairfax
Since January 2015 our primary location has been in Fair Oaks on Pender Drive. This custom designed, state-of-the-art center provides 15,000 square feet for our day center, early stage programs, support, and education programs. Read more below or contact us to learn more!
Programs Offered
Our Fairfax location currently offers all of our programs, including those for individuals in early to late stages of dementia, care partners and family members, as well as offerings for businesses, organizations, and the larger community.
Insight's adult day health center provides a safe, engaging, and therapeutic environment for individuals with mid to later stage memory impairment. It is the only dementia-specific day center in the DC metro area and still the only adult day health center in Northern Virginia with programs for people in the later stages of dementia. For those in the early stages, Insight offers social engagement programs to maximize capabilities, and provide support for loved ones to adjust to changing family dynamics. Additionally, our innovative education and support programs provide caregiver classes, community trainings, professional seminars, support groups, and individual consultations. These programs help family members remain confident and effective in their caregiving roles and increase awareness and understanding of the disease in the community.
Programs offered at this location include:
If you are interested in joining a program, or would like to learn more, please reach out to Jen at jennifer.denk@insightmcc.org, or complete the contact form below.
Upcoming Classes & Events
---
Location
Insight Memory Care Center - Fairfax
3953 Pender Drive, Suite 100
Fairfax, VA 22030
 
Contact Us
Want to learn more about our Fairfax location? Interested in joining a program? Share your contact information and we'll be in touch soon!
About the Fairfax Center
Want to see more before you come by? On January 12, 2015, we opened the doors at our state-of-the-art 15,000 square foot facility in Fairfax, expanding the capacity of all of our programs and services from our previous location in Merrifield. We almost tripled our square footage, and now have capacity for up to 60 day center participants per day. There are three sizable activity rooms for our Blue, Orange, and Coral groups, along with dedicated spaces for art therapy, a multi-sensory environment, and other small group activities. The center was designed for those living with dementia in mind, including a circular walking path through the space and specialty colors and cuing throughout the center. Additionally, we have outdoor space that wraps around the building, allowing another option for activities or an outdoor meal during nicer weather. The Mazawey Education and Support Center is right next door and provides additional space for our early-stage programs and care partner education and support.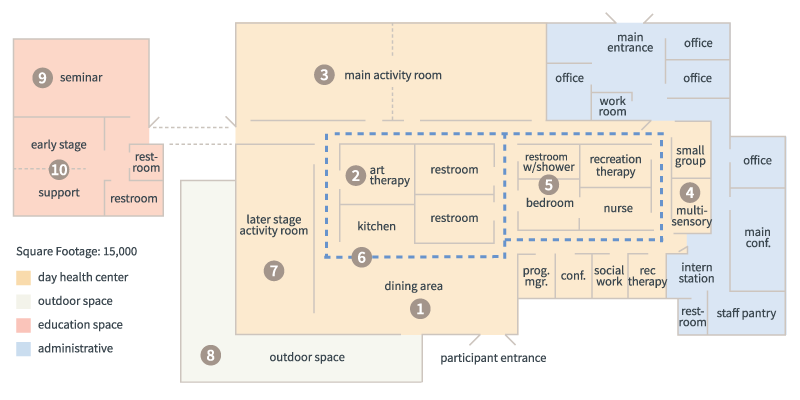 1.Dining Room & Kitchen

Coming in the participant entrance you enter the dining area and kitchen, a spacious area with seating for 60.

2. Art Therapy Room

A separate room provides dedicated space for art therapy, as well as arts activities throughout the week.

3. Main Activity Room

The main activity room provides a large space for big group programs, and can be divided for smaller activities for our Blue and Orange groups.

4. Multi-Sensory Room

This room uses sensory stimulation to calm those who are agitated, or awaken those in the later stages of the disease.

5. Shower & Bedroom

Showers can be provided in a separate bathroom. The bedroom and nurses station all adjoin to provide optimal care.

6. Open Floor Plan

The day center layout is designed for dementia; conducive to wandering with no dead ends.

7. Later Stage Activity Room

Coral participants receive individualized activity plans and more one-on-one assistance with activities.

8. Outdoor Space

1,000 square feet of outdoor space with areas for gardening, active games, activities, and conversation.

9. Education & Seminar

Dedicated seminar space for educational programs, support groups, workshops and more!

10. Early Stage

Dedicated, separate space for our early stage programs, Reconnections and the Mind and Body Workshop.
Locations
"I feel blessed to have lived near IMCC so my husband could participate in such a caring, comprehensive program."