Insight Memory Care Center - Sterling
As of January 5, 2022, we have opened a smaller, early-stage focused center in Sterling! This space will expand our early stage program for those with mild cognitive impairment and early dementia, as well as reach more caregivers through support groups and education programs.
Programs Offered in Sterling
Our Sterling location is offering our popular Reconnections early stage program four days a week. This early-stage, social model day program offers small group, engaging activities for those living with MCI or an early dementia diagnosis, surrounded by peers and in a safe, supportive, and non-judgmental setting. Our current program in Fairfax is full and operating with a waiting list, so we are more than excited to expand this program to Sterling and serve more families looking for early-stage care.
We know that more than just the individual living with the diagnosis needs support. We will be offering care partner education and support programs at this location as well, as we aim to serve the entire family through their journey.
Programs offered at this location will include:
If you are interested in joining a program, or would like to learn more, please reach out to Jen at jennifer.denk@insightmcc.org, or complete the contact us form below!
Upcoming Classes & Events
---
About the Early Stage Center
"We are not alone, but TOGETHER." A small, but powerful sentiment from one of Insight's early stage participants. Even with early signs of memory loss, people can become more isolated — anxious about forgetting someone's name, frustrated at not following conversation, or nervous about people's judgement.
Our programs change this. From the beginning, people with dementia can live well and take control of their health and wellness, while still building connection, maintaining cognitive abilities, and finding meaningful activity. Our early stage center has dedicated a large portion of the space for our Reconnections early stage program, allowing for a variety of activities, from trivia to art projects to social time at the pool table!
We have also specifically created a gathering space area for caregivers to connect and community members to find and share resources. This is a welcoming and comfortable space where care partners can simply wait for an education class to begin or have informal meetings and conversations with others in a similar situation.
Finally, there is a larger education and support room for classes and support groups, along with a smaller conference room for families to meet with staff. Of course there are office spaces as well, and being in the end unit of the building, we have lots of windows and outdoor walking space too!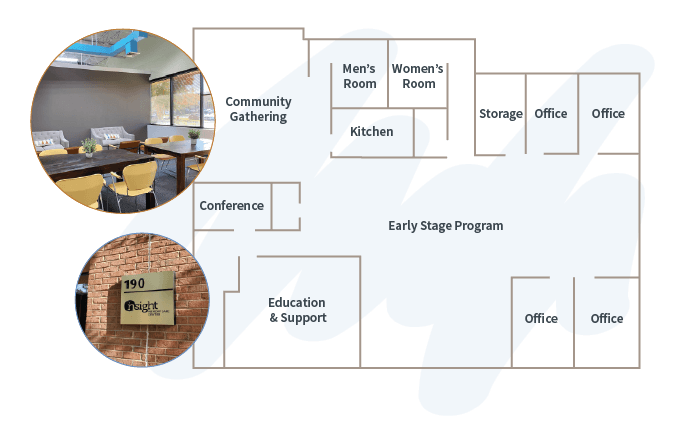 Location
Insight Memory Care Center - Sterling
45945 Center Oak Plaza, Suite 190
Sterling, VA 20166
 
Contact Us
Want to learn more about our Sterling location? Interested in joining a program? Share your contact information and we'll be in touch soon!
Want to Help our Sterling Center Grow?
Your gift gives families a future together. Insight provides care, support, and education right from the beginning of the journey. Your donation will support expanding our early stage programs in Sterling, free caregiver programs offered at Fairfax, Sterling, and virtually, along with providing support for families in need through our financial assistance fund.
What's New at IMCC
"I feel blessed to have lived near IMCC so my husband could participate in such a caring, comprehensive program."