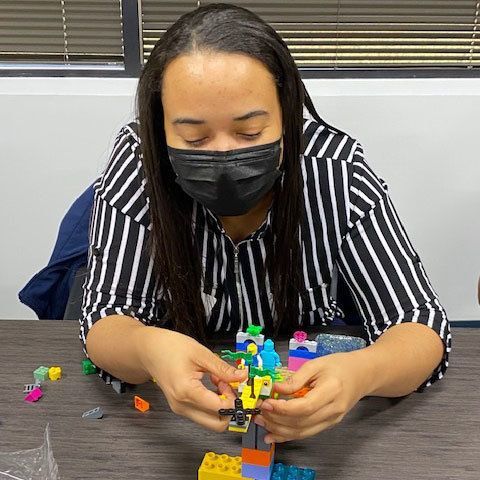 Building Hope with Lego Serious Play
I became a trained facilitator in the LEGO Serious Play (LSP) methodology in 2014 because it is designed to help organizations strategize, communicate, and work together more effectively and I wanted to see if I could use LSP to communicate more easily with my Mom whose dementia had progressed to the point where she had forgotten who I was. Mom and I had been building with LEGO bricks together since I was 5 years old so I hoped LSP would provide another tool for battling dementia - and it worked incredibly well! In addition to working with Mom, I also worked with dozens of Memory Care and Assisted Living staffs and participants in adult day programs. In 2020 while we were all in the grip of COVID, I received additional training as an online facilitator and dedicated the entire year of 2021 to caregivers because I believe they were negatively impacted by the challenges of caregiving that now included the isolation and frustration caused by COVID. Every group of caregivers I worked with fell in love with LSP just as I had done years earlier. I didn't start to work with care receivers and care partners building together using LSP until the fall of 2021.
When Lindsey Vajpeyi asked me to lead the first session of the Mind and Body Program at the new Insight location in Sterling, VA that was set to begin on the evening of March 1st 2022 I jumped at the chance. I arrived in Sterling all set for the first night and began greeting the five couples who would be participating as they arrived. Because five of the 10 participants had dementia, I hadn't set huge goals for the evening, I really just wanted everyone to have fun. But as soon as the "practice round" of participants building a tower began I knew this group was special! They didn't just stack the bricks on top of each other, some built towers to represent places they had visited in the past like the Burj Al Arab in Dubai and their first duty station in Greece.
Another pair made a tower with different steps to help them get to the top and overcome challenges. My first thought was WOW, and as I glanced at the Insight staff participants and the session sponsor, they too look stunned at the depth of the models the couple had made. I asked them to look around at all the look around at the models they each had made and pointed out that they all had the identical 52 pieces BUT all their towers were very different! It was a great Aha moment for the group! I was even more excited about the next two rounds of play.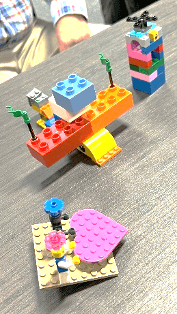 The next task was for the couples to build what gives them hope! Again, the results were stunning! One couple built an entire scene of an airplane, a control tower and two LEGO people that represented their grandchildren who they love very much as indicated by a LEGO heart. What brings them hope was at the end of COVID they will get on a plane and fly to see their grandkids!!
Another couple who has been married almost 50 years built a model that included yellow and orange bricks to represent the rising and setting of the sun each day for their entire relationship. It was simply incredible! Another couple built a church complete with a parsonage where the priest lived because their church was a great source of hope for them.
During the sharing of the models the group had built, each couple cheered for each other and marveled at the stories they told about their builds. Because we only had an hour, we were only doing two rounds as opposed to the normal three rounds I lead in a typical 90 minute to two-hour session. Because the idea of LSP is to get participants to find strategies to help them on their caregiving journey, I asked them to build a model of a strategy they would use on tough days. By now I knew the results would be awesome and they didn't disappoint! There were strategies for turning to Love, turning to kindness (complete with a letter K that had multiple parts) going out into nature with the priest for a conversation that could restore them, and dancing together to get through the tough days.
These folks who were just starting out on this journey had given this session their all, and really had a great time!! They'd each strategize quickly, thinking with their hands as I had taught them and then built together with the regular size LEGO bricks and the larger DUPLO bricks too. The wife in one of the couples was wearing a sling but that didn't stop her one bit from participating fully! I loved how the couples took turns sharing parts of their story about their models, especially if an important detail had been left out! After witnessing their efforts, I was so uplifted and was as emotional as I'd ever been at the end of the session. I had gone over the hour time limit by a few minutes but even then I didn't want to leave. I don't think I'd ever gotten as attached to a group in an hour's time before. Since the theme of the four-part series is HOPE, I hope that the remaining sessions of Mind and Body series go as well as the first one! It was an evening I'll never forget!
Author
Loretta Woodward Veney is an author, speaker and former care partner to her mom, Doris, who was diagnosed with dementia in 2006. In 2013, Loretta wrote the book, Being My Mom's Mom, which highlights the first six years of the family's dementia journey. After her husband Tim passed away, to help with her grief, Loretta took travel photos that she and Tim had taken, added her motivational words, and compiled them into another book called Refreshment for the Caregiver's Spirit.
Blog
"I like that IMCC focuses on dementia-related problems and provides a focal point for families to network and socially interact in coping with dementia. It provides a community that helps us in our struggle."