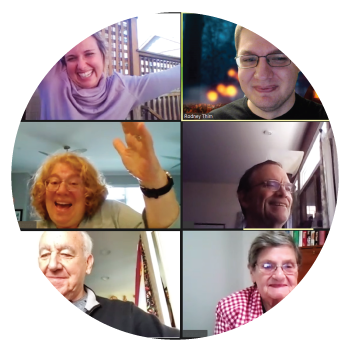 Expanding Access: Silver Lining in the Pandemic
Virtual programs can meet the needs of caregivers both near and far. Online support groups have allowed family members living in another state to participate regularly. Education classes are live and recorded - now accessible to attendees on a flexible schedule. Attendance has grown by 70% in our support groups this year - as families have the flexibility to participate online from home.
We've done the SHARE program with a family in Florida, we've had support group members join from New York, Connecticut, Pennsylvania, and other areas, and we have people attend education classes from all over - even someone from Hawaii joined a Wellness Workshop!
~ Lindsey Vajpeyi, Insight staff
Our early stage program, for example, has a participant that moved to North Carolina during the pandemic that is still able to participate virtually every day! We have regular attendees in our virtual Insight at Home programs from Maryland, North Carolina, DC, and Florida. This new virtual platform has allowed our families to travel and still stay connected socially and programmatically to their Insight friends. Recent attendees traveled to Hawaii and Dubai and were still active participants!


Being able to offer care, support and education through a virtual presence provides a unique opportunity for families to stay connected and engaged in a way that was geographically limited pre-pandemic. Read more in our 2020-2021 Annual Report!
Blog
"I like that IMCC focuses on dementia-related problems and provides a focal point for families to network and socially interact in coping with dementia. It provides a community that helps us in our struggle."