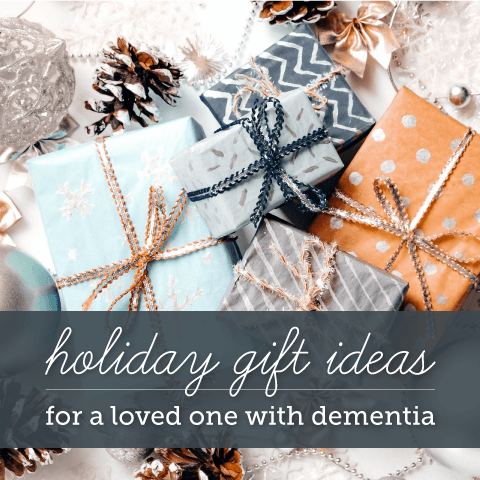 Holiday Gift Ideas for a Loved One with Dementia
We all have that "hard to shop for" person in our family. You lean towards buying socks or gloves but choosing the perfect gift can be difficult or even impossible! What makes it even harder? If your loved one also has dementia.
Here are some gift ideas for someone who has dementia, including options for those at the beginning to the end stages of the journey. Great gifts can provide the individual to have more autonomy and independence, or just simple joys and ways to relax. We hope these will be helpful!
All Amazon links are current as of December 2022.
Books
Depending on the stage of your loved one's journey, you can consider activity books and brain games for those in the early stages or picture and coffee table books to encourage reminiscence for those in the later stages. Activity books could include sudoku, word games or other trivia to engage those in the earlier stages. Others might enjoy a coffee table book on their hometown, a favorite vacation spot, or other hobby or interest (bird watching, cars, history, dogs or cats, etc.).
Easy Tech
For those in the earlier stages, and still managing many of their day-to-day activities, some modified tech might simplify their day. Think clocks with bigger numbers that are easier to read, or even a simplified smart phone that can help them stay connected.
Sensory Items
For those in the mid and later stages, sensory and fidget-type items could be a good choice to keep hands busy. There are a ton of fidget toys available from spinners to poppers, and here are a few more that might appeal specifically for those with dementia.
Stay Cozy!
In the winter you can't really go wrong with a cozy blanket or some comfy socks. Textured blankets can add another level of sensory stimulation. Others may enjoy a weighted blanket for relaxing.
Animals
If your loved one is an animal lover, you have more options to consider! If they like watching outdoors, consider a bird feeder that attaches to your window or even with a smart camera enabled. Those in the later stages might enjoy a realistic plush animal, particularly if they've always enjoyed a pet at home.
More Activities
Staying engaged is always a priority for those with dementia. Depending on your loved one's interests, they might enjoy a new puzzle, art supplies or craft kit, or even a simple card or board game. Many favorite hobbies can be simplified so that your loved one can still be successful – and enjoy!
Blog
"I like that IMCC focuses on dementia-related problems and provides a focal point for families to network and socially interact in coping with dementia. It provides a community that helps us in our struggle."