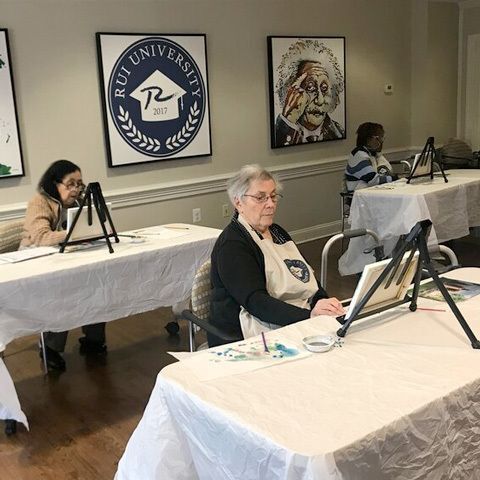 Learn More about RUI University!
We are sincerely grateful to Retirement Unlimited, Inc. for being a Diamond Sponsor of our 2022 Paintings & Pairings event! Just like Insight, they believe strongly in the value of education and lifelong learning. Learn more about their RUI University!
What is RUI University?
RUI University was established in 2017 and provides Lifelong Learning to the residents, families, and surrounding local community of Retirement Unlimited Inc. (RUI) senior living communities located in Virginia and Florida. RUI's president Doris-Ellie Sullivan developed the program at the request of her father who moved into one of RUI communities. RUI University provides a full curriculum of Lifelong Learning engagement through lecture classes taught by subject matter experts, learning lab activities dedicated to all four learning styles, opportunities for residents to teach classes through the RUI Resident Fellows program, educational events, and more.
The program promotes purposeful living giving each RUI resident an exciting engaging activity to look forward to. The program not only supports intellectual wellness by allowing residents to critically think and examine topics from a variety of disciplines it also encourages social interaction by creating the atmosphere of a college campus inside RUI's senior living communities. Residents engage with peers and visitors in discourse and work through questions collaboratively. The classes are not only open to residents but to entire surrounding communities for no charge. The Fralin & Waldron families the owners of RUI wanted to create a community center and provide access to education.
What is the importance/benefit of learning at any age?
There are lots of wonderful benefits to lifelong learning. Learning a new skill improves cognitive health, just like our bodies or brains need to be exercised in order to stay in tip-top shape. Our brains are constantly changing and adapting. This concept is called neuroplasticity. When we learn a new skill or concept we create new connections strengthening our brains. Lifelong learning also builds strong social support by providing quality contact. During classes, residents are engaging with other students and instructors. This atmosphere and exchange of ideas can help us to create new relationships or build lasting friendships. Lastly, lifelong learning provides an outlet to reminisce which increases emotional wellness. Our residents can learn about new concepts but also connect those concepts to their lives. This is why we encourage our residents to teach classes they are experts in their field and teaching or leading a learning lab allows them to showcase their talents or history.
How does RUI's Lifelong learning help your residents and the community?
Purpose has been shown to be the biggest driver of well-being. We all need that reason to start our day something to look forward to! RUI strives to provide purposeful living through our Life Enrichment programming and RUI University signature program. Through the lecture classes and learning labs, residents get to explore new interests and challenge their current perspectives. It has also been a wonderful opportunity for residents to increase their social wellness through discussions with their peers and interacting with the RUI University Fellows who come into the lecture. 
The classes have also helped our residents work through their emotions and grief. By partnering with Feet to the Fire Writers' Workshop we had our LEDs trained to teach a 6-week memoir writing course. These small group sessions allowed residents to write about their past while they process the present. One of our residents is currently writing a book after participating in Feet to the Fire Writers' Workshop. When his wife needed more care and was moved to our community Inspiritas memory care he started writing their love story beginning with their first date. As he completes each chapter, he reads it to her. This book has been a special way to reminisce and will one day be a beloved keepsake for their family.
Can you share some examples of the learning programs you offer?
RUI University does not only offer lecture classes as one would see in a college or university. What makes this signature program innovative is its expansive lifelong learning curriculum. The program includes Classes, Learning Labs, RUI University Fellows, Resident Fellows, RUI University Scholars Program.
RUI University classes are lecture-based. The classes last for 45 minutes to an hour and are taught either on-site and in-person by an RUI University fellow or virtually through zoom. The classes include a visual component like a PowerPoint presentation and can also include hands-on instruction or activities. The topics of the classes vary as each community is surveyed for their interests. Subjects include history, music, fine arts, culinary, wine, horticulture, environmental sustainability, and more.
Learning Labs promote lifelong learning outside of the scheduled RUI University classes and promote intellectual engagement. These activities build upon an existing class and create a well-rounded and intentional curriculum. The Learning Labs follow the VARK Model of Student Learning which was introduced by Neil Fleming and Educational Theorist. We create RUI University Learning Labs that foster participation from Visual, Auditory, Reading/Writing Preference, and Kinesthetic learners. Some examples of learning labs include outings to the ballet, Peruvian weaving, learning the history of the Ethiopian coffee ceremony, or listening to the sound each planet creates.
RUI University values purposeful living and lifelong learning and we want to honor and celebrate our residents for their outstanding achievements in the classroom. That is why we developed the RUI University Scholars Program. Through the RUI University Scholars Program residents who attend a set number of classes during the semester receive a certificate of achievement and they are honored at our Scholar's Celebration & Semester Kick-Off which is hosted in the last two weeks of the RUI University semester. This ceremony includes a signature drink "The RUI University Scholars Spritzer", hors d'oeuvre, and thoughtful discussion from all our scholars on the past semester.
RUI University Fellows are subject matter experts who lecture both in person or virtually over zoom. Not only do we invite in our RUI University Fellows but our residents are extremely skilled and have the opportunity to become RUI University Fellows by teaching a class or leading a Learning Lab. Our residents have taught a variety of subjects including Poetry & Music, Creative Writing, History of the Armed Forces, and more!
What are tips you can share with older people in our community to engage in learning?
Find something that you are interested in or curious about and explore! Learning can be done in so many different ways- reading, hands on interaction, conversations with your peers. There are also many different ways to gather this information- listen to a podcast, learn a language through Duolingo, watch a lecture, or attend an RUI University class at one of our communities. Have fun discovering what you are passionate about and challenge yourself!
Learn more about RUI University at https://www.rui.net/rui-university
Learn more about Paintings & Pairings at https://www.insightmcc.org/paintings
Blog
"I like that IMCC focuses on dementia-related problems and provides a focal point for families to network and socially interact in coping with dementia. It provides a community that helps us in our struggle."