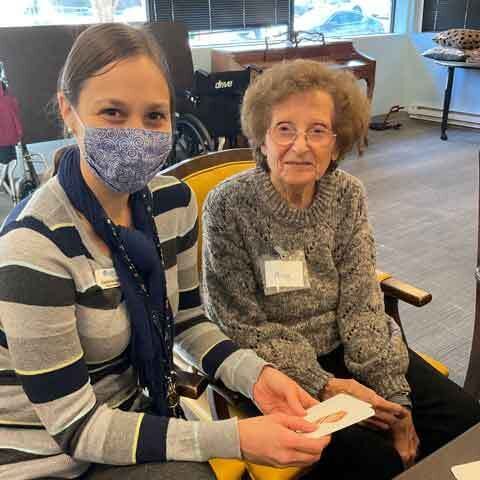 It's Social Work Month, learn about social work at Insight!
Social workers play a variety of roles in organizations across the country. Here at Insight Memory Care Center, our social workers impact the lives of participants and families in numerous positive ways. As we celebrate National Social Work Month, we honor the critical role Insight's social workers play in our organization and the greater community.
According to the National Association of Social Workers (NASW), "The primary mission of the social work profession is to enhance human well-being and to help meet the basic needs of all people, with particular attention to the needs of people who are vulnerable. Social workers help people from all walks of life overcome life's challenges, improve their relationships with others, and live life to the fullest." Our Director of Social Services, Rodney Thim, shares:
"Social work at Insight isn't only there for the participants. We are also open and accessible to families to provide resources and answer questions about anything. There is always someone here to help and we are here for the entire family!"
Our social workers do so much incredible work including building person-centered relationships with participants, engaging families with resources and support, educating the community about all stages of memory and cognitive impairment, and communicating our mission effectively. "Social workers can help people with memory impairment and their families navigate all of the different challenges that come with Alzheimer's and dementia and provide them with a thorough tool kit on how to live life fully" shares the NASW.
"Insight really takes a community and family-oriented approach where we offer a lot of support." shares Miranda Hart, our Social Services Coordinator.
 Jennifer Denk, our Director of Community Engagement, also expresses her sentiment on what makes Insight special,
"Social work at Insight is unique because we are intervening in the participants lives not to treat or cure them (as you might in other mental health fields) but to enhance the quality of their lives. Rather than focusing on the overall outcome, we as social workers search for small moments of joy and connection with the participants, which teaches us to be present and focus on the moment. Valuable life lessons!"
To our social workers - we appreciate your contributions today and every day!
P.S. You can also Meet our Social Workers!
Blog
"I like that IMCC focuses on dementia-related problems and provides a focal point for families to network and socially interact in coping with dementia. It provides a community that helps us in our struggle."