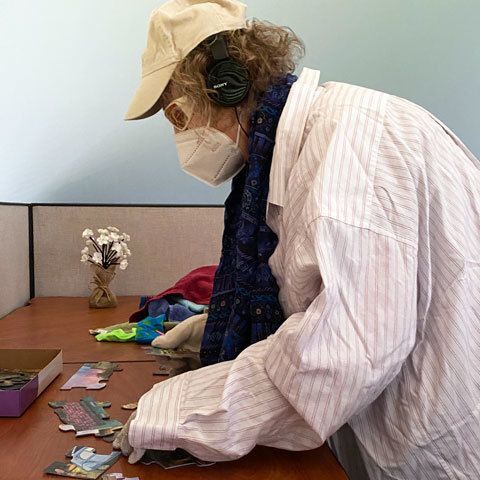 The Virtual Dementia Tour: Your Window into their World
I recently had a dream that I was in my doctor's office being diagnosed with younger-onset Alzheimer's. I couldn't believe it, no matter how many times my spouse and my doctor told me it was true. I was so shocked and scared...more for my family would endure than for what was happening to me. Most dreams I forget within a few minutes of waking up. But not this one...it really hit home.
Can you imagine what it would be like to live with dementia?

The Virtual Dementia Tour is an opportunity to get a window into the world of dementia through this in-person dementia simulation training.

"I had no idea."
"Everyone on the planet needs to experience this!"
"You are an active learner… you walk in the shoes of someone with dementia."
"It's a true head-to-toe experience."
"There is an immediate and lasting change of perception."
"It will touch your heart."

These are some of the testimonials of people who have been through the Virtual Dementia Tour.
The Virtual Dementia Tour® (VDT®) is a scientifically proven method that builds sensitivity and awareness in individuals caring for those with dementia by temporarily altering participants' physical and sensory abilities. This evidence-based program simulates changes associated with cognitive decline. Geriatric specialist P.K. Beville authored and created the VDT as her post-graduate work. This patented program from Second Wind Dreams offers hope by providing practical ways to create an environment that supports the disease and increase understanding.

Insight Memory Care Center offers the Virtual Dementia Tour regularly throughout the year. There are a limited number of slots to participate in each tour, so register today if you want to participate in this free and impactful experience! Check our event calendar for the next tour date!
Blog
"I like that IMCC focuses on dementia-related problems and provides a focal point for families to network and socially interact in coping with dementia. It provides a community that helps us in our struggle."