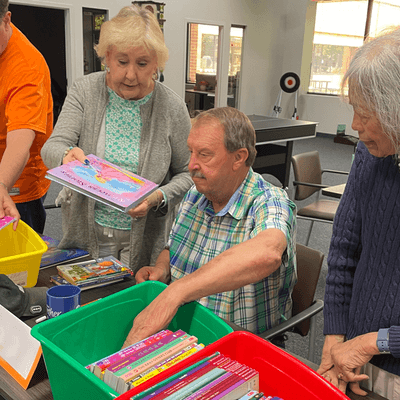 Reconnections Participants Give Back!
According to the Mayo Clinic, volunteering offers significant health benefits, especially for older adults. These benefits include reducing stress and increasing positive feelings, providing a sense of purpose, and increasing social interaction. Reconnections has partnered with local Loudoun County non-profit, By Faith Fund, several times over the past year on donation drives for needs in the community including food, toiletries, holiday items, and school supplies. By Faith Fund's mission is to be facilitators and partners in the community by bridging the gap for those who need a helping hand.
Recently participants and their families had the opportunity to participate in a school supply and backpack drive for local students as the school year begins. By Faith Fund came out to the Reconnections Sterling location and enlisted participants' help to sort out supplies and books based on reading level that had been donated for a Loudoun County elementary school. Participants had the benefit of working together with their peers for the common goal of creating a more positive back to school experience for children in their own community. 
One participant shared of their participation:
"I wish I did more volunteer work like this when I was younger, however, I am grateful that I got this opportunity while being at IMCC."
Another participant shared their enjoyment of the volunteer experience and their desire to stay involved:
"When will be doing this again? I want to make sure I am here on the day they come back!" 
It is evident how being of service to others benefits all of us, especially when we can tie the impact to our own neighbors. Insight is grateful to By Faith Fund for facilitating opportunities for our family to give back and and meet the needs of the communities we call home!
Blog
"I like that IMCC focuses on dementia-related problems and provides a focal point for families to network and socially interact in coping with dementia. It provides a community that helps us in our struggle."