Insight Memory Care Center is proud to be an integral part of Dementia Friendly America initiatives in our community. Dementia Friendly America is an initiative to bring awareness of and support for those who are living with dementia and their caregivers. We have helped to champion these initiatives here through adopting the Dementia Friendly Herndon pilot as our own program, and starting dementia friendly efforts throughout Fairfax County through assisting with the creation of Dementia Friendly Fairfax. We also offered the first regional symposium for Dementia Friendly communities, encouraging their growth and collaboration.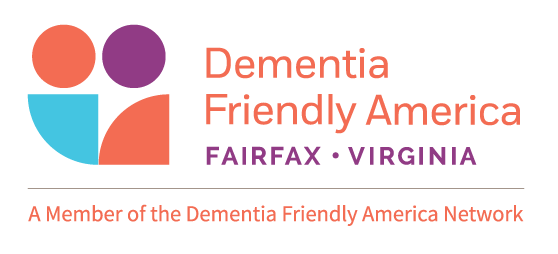 Dementia Friendly Fairfax is an initiative to bring awareness and support for those living with dementia and their care partners in Fairfax County, Virginia.​
Dementia Friendly Fairfax envisions our community as a place where people living with dementia and their care partners:
will be able to engage in a variety of activities,
be supported in the highest quality of life,
and can live independently for as long as possible.
The Fairfax Area Commission on Aging and Fairfax Area Agency has included DF Fairfax initiative in the SHAPE Plan (formerly 50+ plan) to better serve older adults in our community. DF Fairfax started in July 2019 through a partnership with Goodwin House, Fairfax County, and Insight Memory Care Center.
Want to get involved?
Join a DF Fairfax Action Team meetings. Check DF Fairfax's event calendar for upcoming meeting dates.  
​Attend a Dementia Friends Information Session. DF Fairfax holds these sessions once a month. Find a date that works for you on the event calendar.

Upcoming Events
Learn more about Dementia Friendly Fairfax at dffairfax.org.
Get Involved
"I love IMCC because everyone needs to be taken care of."