35th Anniversary Celebration!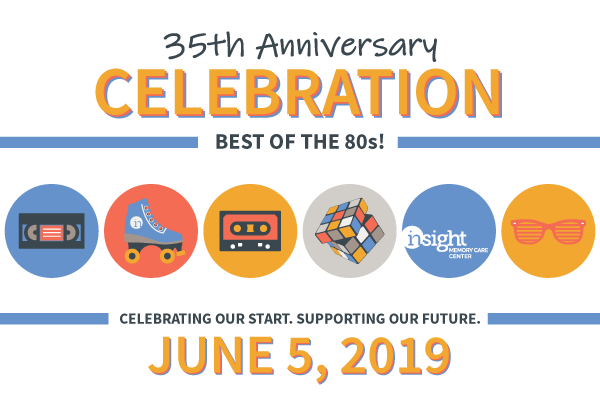 Join us to celebrate Insight Memory Care Center's 35th Anniversary on June 5th!
Dust off your shoulder pads and come celebrate in style! Join us from 4:00 to 6:00 pm as we look back at where Insight has been and look forward to an exciting future providing care, education, and support for families living with dementia in our community.
Celebrate our Past. We've come a long way since our first days in a church basement! Take a look at a little Insight history, test your knowledge with 80s trivia, and break out your 80s best - best dressed will even win a prize!
Celebrate our Future. You helped us become known as a center of excellence for innovative person-centered care for those affected by dementia. Learn more about our newest programs and ways Insight is growing to serve more in the community!
Celebrate with us! Come have fun with your Insight family! We'll have an ice cream truck, great 80s music, an awesome photo opp, and most of all, fun with Insight friends. Join us!
Upcoming Events
"Just hearing the name IMCC makes me smile."