Giving Tuesday: Ready, Set, Holiday!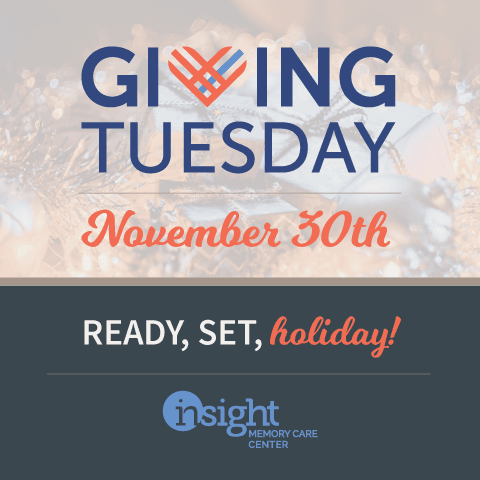 Celebrate Giving Tuesday with us!
Watch Live!
We have four live sessions planned to help you get ready for the holiday season - and beyond! Each session will be held live on Facebook on Tuesday, Nov 30th. Share your questions in the comments, and we'll answer during the session! If you can't make it live, email your questions to Lindsey (lindsey.vajpeyi@insightmcc.org), and you'll be able to watch the recordings posted on Facebook and YouTube after the live events!
Give Today!
#GivingTuesday is a global day of giving, celebrating all acts of giving. We have a $5000 match today! Your gift ensures more families get the care, education, and support needed right from the beginning of the journey. Research has shown that cognitive engagement activities can have long lasting, positive effects on cognition. Give online on Nov 30 and it will all be counted towards a $5,000 match!
Live Events
Live at 10:00 am | Getting Ready at Sterling: Insight's New Space!
Take a tour of our new Loudoun Early Stage Center with Executive Director, Anita Irvin. Get a sneak peek before programs start up, and learn more about what will be happening at our new Sterling location!
Live at 12:00 pm | Getting Ready for Caregiving: What to Watch for with Aging Parents
You've just visited family for Thanksgiving – should I be concerned about mom? Join us for a panel discussion with Chantelle DiLorenzo, The Geller Law Group; David Posner, Homecare.com; and Lindsey Vajpeyi, Insight Memory Care Center, as we discuss warning signs, early conversations to have, and steps to take if you notice signs of memory loss in a loved one.
Live at 2:00 pm | Getting Ready for the Ride: Preparing for the Caregiving Journey
Caregiving can be an emotional rollercoaster, but if you're prepared for the journey, you can better enjoy the ride. Join Insight Memory Care Center as we share resources to help you learn more about the diagnosis, and educate family and friends along the way.
Live at 4:00 pm | Getting Ready for the Holidays: Making the Season Enjoyable
When a loved one is living with memory impairment, the holiday season can look a little different – but it doesn't have to be less joyful! Join us for a panel discussion with Delores Athey, Capital City Nurses; Anita Irvin, Insight Memory Care Center; Pam Reynolds, Atlas Law; and Heather Suri, Pathways in Aging, as we discuss tips and considerations to make the holidays enjoyable for everyone.
About Giving Tuesday
GivingTuesday is a global generosity movement unleashing the power of radical generosity. GivingTuesday was created in 2012 as a simple idea: a day that encourages people to do good. Since then, it has grown into a year-round global movement that inspires hundreds of millions of people to give, collaborate, and celebrate generosity.
Upcoming Events
"Just hearing the name IMCC makes me smile."