Dementia Friendly Fairfax: Dementia Friends Information Session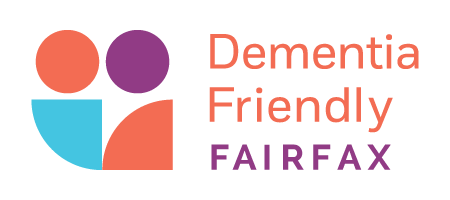 Take the first step to learning more about dementia! As a Dementia Friend you turn your new understanding of dementia into a practical action that can help someone living in your community.
After participating in a Dementia Friends Information Session, participants can:
- Describe dementia and know the most common type of dementia
- State the five key messages about dementia
- Explain one approach to effectively communicate with a person with dementia
- Commit to an action as a Dementia Friend in your community
About Dementia Friendly Fairfax
Dementia Friendly Fairfax envisions our community as a place where people living with dementia and their care partners will be able to engage in a variety of activities, be supported in the highest quality of life, and can live independently for as long as possible.
Dementia Friendly Fairfax initiative started in July 2019 through a partnership with Goodwin House and Insight Memory Care Center. The Fairfax Area Commission on Aging and Fairfax Area Agency on Aging support Dementia Friendly Fairfax.
Upcoming Events
"Just hearing the name IMCC makes me smile."