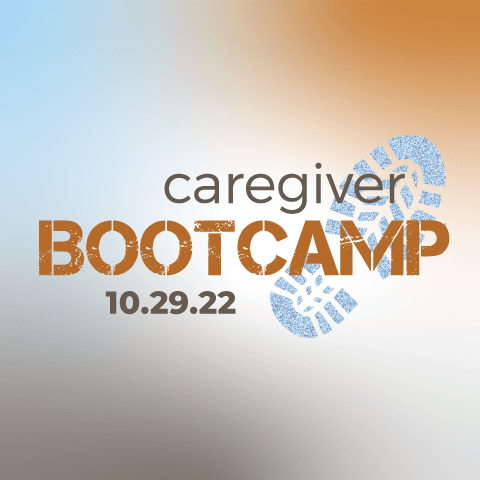 Join IMCC for a free, special morning training event covering many essential caregiving topics! For the Fall 2022 session, we'll be focused on providing tools for everyday challenges! Learn actionable tips and ideas you can use to tackle caregiving challenges at home.
We know it can be hard as a busy caregiver to find all the information you need to best care for your loved one with dementia. Insight offers the Caregiver Bootcamp to help you learn more about essential caregiving topics, all in one place! Come and learn from experts in their fields and gain knowledge on the basics you need to know as a caregiver.
Schedule
9:15-10:15 | Difficult Behaviors
Dr. Hannah Walters, Inova Parkinson's and Movement Disorders Center
As the journey of dementia progresses, many people develop behaviors that can be challenging. This includes restlessness and aggression. We will look at techniques, medication, and tools to help get through these difficult times.
10:20-11:20 | Meal Planning Made Easier
Nourishment is essential to living. Food not only provides us with nutritional needs, but also brings us joy and pleasure. That can change as we age. From taste buds changing, dental health can be more challenging, arthritis can make food prep painful, and medications and mood disorders can steal our appetite. And well, we're often alone and just don't feel like cooking! Let's learn some quick, easy and healthy ways to meet those needs.
11:30-12:25 | Taking Control of Health with Medication Management
John Jacoub, RevolutionMeds Pharmacy
Most older Americans (48%) take at least one medication and many older adults take three or more medications each day. This can often mean multiple trips to the pharmacy or waiting hours on end to get prescriptions filled. Maybe you struggle more once you get your prescriptions home and begin to sort your medications for each of the coming days. Learn more from RevolutionMeds Pharmacy how this can all be simplified!
Many thanks to our event sponsor, Arden Courts of Fair Oaks!
 
Upcoming Events
"Just hearing the name IMCC makes me smile."