Friends of Insight Meeting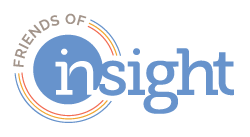 Join us in January for lunch to catch-up with Friends of Insight and start the New Year off right! We will be meeting at Brio in Fair Oaks Mall. We have arranged a separate area off the main dining room for our group. We can order off the regular menu, and will have separate checks. We'll share some brief Insight updates, and have lots of time to catch up and have fun!
Please RSVP by Jan 6 to Robin so we can give a head count to the restaurant.
Connect with those who've been on a similar journey.
Friends of Insight members stay engaged through social events and give back to Insight through advocacy. Many group members are families that had a loved one with a memory impairment or have a connection to Insight's programs. Friends of Insight meet regularly to discuss current ways to help out and catch up with Insight friends. Additionally, we plan social events to have fun and stay connected!
Upcoming Events
"Just hearing the name IMCC makes me smile."