Caregiving at a Glance Workshop Series at Paul Spring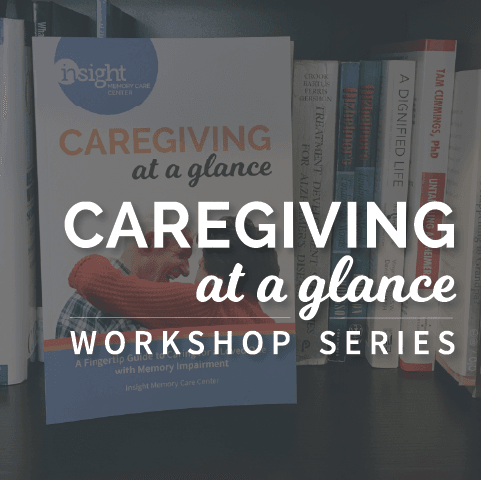 Join us in-person for this workshop series as we explore many common caregiving topics together! Each weekly session will include an educational portion, group discussion, and interactive activities as we digest and apply each chapter of Insight's Caregiving at a Glance guide. Guest facilitators will also provide expert advice for each session topic. A one-hour consultation is included at the end of the series to apply course learning to your specific family situation.
Wednesday, February 15: Chapter One: Dementia 101
Wednesday, February 22: Chapter Two: Activities of Daily Living
Wednesday, March 1: Chapter Three: Communications & Behaviors
Wednesday, March 8: Chapter Four: Activities
Wednesday, March 15: Chapter Five: Safety
Consultation: One-hour consultation by appointment
This cohort session will be limited to 25 participants in order to ensure that everyone can actively participate. We know that as much as you can learn from the experts, you can also learn from each other along our shared caregiving journey!
Cost is $100 for the series. Attendees will receive a Caregiving at a Glance guidebook and class materials from Paul Springs. Registration deadline is February 6 to ensure you receive course materials before the first workshop!
Insight Memory Care Center is excited to partner with Paul Spring Retirement Community to offer this series in-person in the Alexandria area.
Upcoming Events
"Just hearing the name IMCC makes me smile."