Friends of Insight Meeting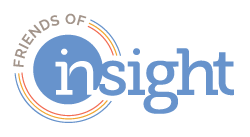 Connect with those who've been on a similar journey.
Friends of Insight members stay engaged through social events and give back to Insight through advocacy. Many group members are families that had a loved one with a memory impairment or have a connection to Insight's programs. Friends of Insight meet regularly to discuss current ways to help out and catch up with Insight friends. Additionally, we plan social events to have fun and stay connected!
Friends of Insight meetings will be held every other month on the 2nd Wednesday at 11:30am. Please contact Carrie if you're interested in joining!
Upcoming Events
"Just hearing the name IMCC makes me smile."