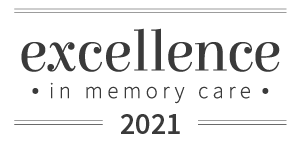 Insight Memory Care Center's Excellence in Memory Care award recognizes programs and services that are models of excellence and positively impacting memory care in our community. We recognized the winner of our sixth annual award at our last event on October 14, 2021.
Our Award Winners
2021
Dr. R. Scott Turner, MD, Ph.D.
Dr. Turner received our sixth annual award not only for his research expertise in our area, but also his commitment to providing the best clinical quality and the best customer experience in mental health diagnostic and treatment services for the benefit of his patients and families. 
2020
Steve Gurney
For over 30 years the Positive Aging SourceBook has made finding housing, aging in place solutions, and resources convenient by providing the most comprehensive and trusted resource in print and digital formats. In response to the COVID-19 pandemic, Steve has been working with his team to continue to connect people and help the families that need helping finding care through innovative ways.
2019
Carol Blackwell
Carol Blackwell was selected to receive the fourth annual Excellence in Memory Care Award for her efforts in developing, implementing, and promoting Memory Cafes throughout Northern Virginia.
2018
Toni Reinhart
Toni Reinhart received the award for her work with the Dementia Friendly America Herndon program, including developing the pilot program, building an action team, and creating awareness to change the face of dementia.
2017
Larmax Homes
Larmax Homes was selected to receive the second annual Excellence in Memory Care Award for their equine therapy programs that allow residents to benefit both from traditional riding therapy along with an equine assisted therapy program at their homes.
2016
George Mason University Department of Social Work
GMU's Department of Social Work was selected to receive the first Excellence in Memory Care Award for their research program examining the effects of personalized music on the behavior and emotions of older adults with dementia.
Questions?
Want to learn more about the event? Please contact Robin McGlothin at robin.mcglothin@insightmcc.org.
Upcoming Events
"Just hearing the name IMCC makes me smile."