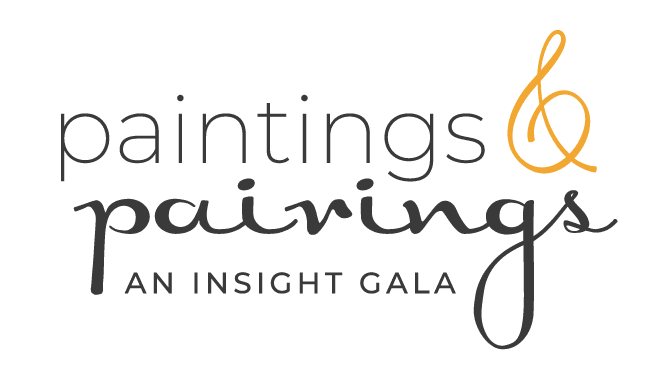 October 20, 2023
WESTFIELDS MARRIOTT | COCKTAIL ATTIRE
5:30 | COCKTAIL RECEPTION
Silent auction, live music, networking, passed hors d'oeuvres and paired wines
7:30 | THREE-COURSE DINNER
Seasonal salad, delicious meal and dessert to enjoy at your table
8:00 | GALA PROGRAM
Sponsor Recognition, Excellence In Memory Care Awards, and Live Auction
Thank You for a Great 2022 Event!
Thank you so much to everyone who came to our 11th annual Paintings & Pairings event on Thursday, October 13th. It was a fantastic evening of paired hors d'oeuvres and wines, a delicious 3-course dinner, live and virtual auctions, networking, and a fantastic program highlighting dementia care in our community.
Almost three hundred guests joined us at the Fairview Park Marriott in Falls Church to celebrate the care, education, and support that Insight provides in the community, raising over $170,000 in support of our center. We sincerely thank you for your support!
Sponsorship Opportunities
Sponsorship opportunities are available for the 2023 event! Insight is a nonprofit adult day health and resource center, and we rely on the generosity of others like you to support our vision of a community where those affected by memory and cognitive impairments can achieve the highest quality of life. Help us meet our mission, while also gaining great exposure for your organization as an event sponsor! Please contact Robin McGlothin for more information.
Many Thanks to our Past Sponsors!
Excellence in Memory Care Award
Insight Memory Care Center's Excellence in Memory Care Award recognizes programs and services that are models of excellence and are positively impacting memory care in our community. The winner of our 7th annual award was announced the evening of the event:
Aging Rainbows
Congratulations Karen McPhail and Aging Rainbows! We sincerely thank you for your impact on memory care in our community. Your commitment to providing community outreach and fostering inclusive care communities and care providers makes our community a better place for LGBTQ+ older adults.
 
Read more about each of our finalists! If you're interested in learning more, or have a nomination for the 2023 award, please contact Robin McGlothin at robin.mcglothin@insightmcc.org.
About the Event
Paintings & Pairings began in 2012 as a smaller gathering of Insight supporters who came together to enjoy the creative pursuits of our day center participants. Our art therapy program had just begun, and we saw the event as a wonderful way to highlight our participant's talents. All of the paintings were for sale, along with a few tempting raffle item packages. And of course, what would an evening be without a little food or drink? We welcomed our guests with delicious hors d'oeuvres that were paired with chef recommended wine selections for an extra treat. And thus Paintings & Pairings was born, as we celebrated Insight through art and wine.
The event has grown each year, from 100 attendees in 2012 to nearly 400 at our last in-person event in 2019. With the pandemic, the event went virtual in 2020 and 2021, but still allowed for all the fun on our virtual event platform. Each year we've remained true to our roots with original elements of the event. Paintings include participant artwork, along with the works of local artists who are connected to our center and our cause. We have also expanded the raffle into a full silent and live auction, providing even more fun – and friendly competition! – during the event.
As we returned in-person this year, what didn't change is that all the proceeds from the event ensure families and our community are getting the support and care they need when faced with a dementia diagnosis. Thank you to so many that have celebrated with us from the beginning, those that have celebrated virtually, and of course those who attended Paintings & Pairings for the first time this year!
Questions?
Want to learn more about the event? Please contact Robin McGlothin at robin.mcglothin@insightmcc.org.
Upcoming Events
"Just hearing the name IMCC makes me smile."