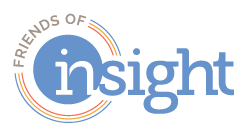 Friends of Insight supports Insight through development, volunteerism, and advocacy to maintain and build relationships through social activities. Friends of Insight members are families that have or had a loved one with a diagnosis of dementia and have a connection to Insight Memory Care Center. This connection could be through attending any of Insight's programs and services.
Friends of Insight meet regularly on the second Wednesday of the month to discuss current ways to help out and catch up with Insight friends over lunch! The next meeting dates are listed below:
Help Out
Friends of Insight support our center in many ways. There is no specific commitment; we invite you to volunteer as much or as little as you are able and in ways that work best for you. Volunteer activities could include:
Introducing new people, organizations, or corporations to Insight.
Attending and/or inviting guests to our fundraising events, Paintings & Pairings or the Legacy Breakfast.
Representing Insight at health or community fairs.
Becoming trained as a support group co-facilitator or caregiving mentor.
Connecting and engaging with other current and former Insight family members.
Attending meetings to brainstorm new opportunities for Insight!
Upcoming volunteer needs are detailed below:
Wednesday, May 13, 2020
8:00 am - 9:00 am
Westwood Country Club, 800 Maple Ave E, Vienna, VA 22180
We are currently looking for table hosts for this engaging breakfast fundraising event. Please contact Robin McGlothin for more details.
Wednesday, May 13, 2020
5:00 pm - 8:30 pm
Dementia Friendly Herndon is hosting a Dancing for Dementia fundraiser. They are looking for raffle and auction items. Learn more on their event page!
1st and 3rd Wednesdays
3:45 pm - 4:30 pm or until 6:00 pm
Volunteers can help assist with the cafe, including the group activity and dinner preparations. Please contact Lindsey Vajpeyi for more details.
Mondays, Tuesdays, Thursdays, and Fridays
10:00 am - 3:00 pm (or part of the day)
Help at our early stage program to set-up, engage participants, assist with lunch, or even lead a program! Please contact Kennedy O'Donnell for more details.
Have Fun!
Friends of Insight also have fun together! The group plans regular social outings as a way to stay connected with others who have been on a similar journey. Upcoming events include:
Interested? Please contact Robin McGlothin at robin.mcglothin@insightmcc.org for more information or to learn more about joining the group.
Help Out
"l Iove IMCC because it's a fun and loving place!"