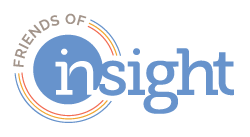 Connect with those who've been on a similar journey.
Friends of Insight members stay engaged through social events and give back to Insight through advocacy. Many group members are families that had a loved one with a memory impairment or have a connection to Insight's programs.
Join Us!
Join Friends of Insight and be part of this amazing group! The group has no membership fee or formal application process, it is simply an opportunity to have fun together and participate in opportunities to support Insight. Join our email list to learn more, or come to the next meeting or social event of interest - it's that easy! As a member, we will share upcoming events and opportunities, and you can participate as they fit your interests - as much or as little as you'd like. It is a great group to stay connected with Insight and other families!
Upcoming Events
Friends of Insight meet regularly to discuss current ways to help out and catch up with Insight friends. Additionally, we plan social events to have fun and stay connected! Upcoming events are listed below:
Questions?
Please contact Ben Werner at Ben.Werner@InsightMCC.org to learn more about joining the group, or join the Friends of Insight email list to learn more.
Help Out
"l Iove IMCC because it's a fun and loving place!"