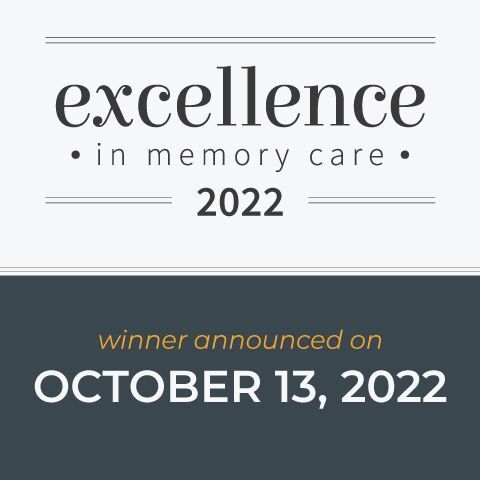 2022 Excellence in Memory Care Award Finalists
Insight Memory Care Center's Excellence in Memory Care Award recognizes programs and services that are models of excellence and are positively impacting memory care in our community. This year, for our 7th annual award, we have five fantastic finalists. The winner will be announced the evening of the event!
Our finalists include:
Aging Rainbows, Karen McPhail
CounterPoint Health Services, Dr. William Mansbach
Inova Parkinson's and Movement Disorders Center, Sonia Gow
MemoryBanc, Kay Bransford
What's Wrong with Grandma children's book, Amanda Max
About our Finalists
Aging Rainbows, Karen McPhail
Aging Rainbows is a nonprofit that started in November 2019, 100% volunteer run organization with no paid employees. They are a collaborative group of likeminded individuals from the LGBTQ+ community and allies who are driven by one primary goal, to make the world a better place for all individuals!
Aging Rainbow's mission is to provide community outreach, education, supportive programs, foster inclusive care communities and care providers, expand socialization opportunities, and intergenerational programs in the Northern, VA area and throughout the country for LGBT older adults. They want to work with individuals and communities across the country to foster these programs and ideals! They strive to build productive relationships and to make a positive impact with all of their pursuits.
Learn more about Aging Rainbows.
CounterPoint Health Services, Dr. William Mansbach
CounterPoint Health Services is a behavioral health services provider specializing in geriatrics. Though CounterPoint Health Services does not serve exclusively those with dementia, the work they do with those living with dementia is very impactful. They have an integrated model of care which facilitates communication between providers managing medications and providing talk therapy. They have expertise in both pharmacological and nonpharmacological approaches to supporting people with dementia who are experiencing psychiatric symptoms. They provide support and education to caregiving staff. They demonstrate a culture of holistic care based in through assessment and treatment using evidence-based approaches.
Clients with dementia with behavioral disturbance and their families suffer tremendous stress with fear of safety, losing their housing, care staff not understanding how to help or psychiatric hospitalization. CounterPoint has helped clients with all of these stressors and even prevented unnecessary psychiatric hospitalizations in several cases.
Behavioral health needs are prevalent in those living with dementia. Whether it is depression, anxiety, agitation or aggressive behaviors - behavioral health needs need to be managed effectively to support quality of life for both the individual and their families and caregivers. There are some very serious barriers to quality behavioral health care for people with dementia.

There is a huge strain on behavioral health services which has worsened since Covid.
Services for older adults are particularly impacted due to a lack of providers who specialize in geriatrics (both for medication management and talk therapy), mobility and/or cognitive impairment makes it hard to attend in-person appointments in the outpatient setting, discomfort with or inability to use the tech needed to facilitate a telehealth visit, poor integration of treatment modalities, inadequate "step down" services to bridge acute psychiatric care with outpatient care, movement of providers out of behavioral health or into new roles results in a lack of continuity of care. CounterPoint's model of integrated and accessible care is working to change this.
Learn more about CounterPoint Health Services.
Inova Parkinson's and Movement Disorders Center, Sonia Gow
Be it Parkinson's disease, essential tremor, dystonia or other movement disorders, the Inova Parkinson's and Movement Disorders Center provides comprehensive care designed to get participants moving again.
From the first meetings with one of our specialists, the team's dedication to individualized care is evident. Each person has his or her own unique brand of Parkinson's, essential tremor, dystonia, Huntington's disease or tic disorder and deserves a personalized treatment plan to address specific needs. The experienced movement disorders team will work with you to chart a path to better health.
Their goal is the same as the patients – to rid the symptoms of the condition. They accomplish this through the latest targeted medication to enhance natural neurochemistry, combined with disease-specific physical, occupational and speech therapy. If medications are not effective, the specialists at Inova are uniquely trained to use deep brain stimulation (DBS), intestinal gel and targeted botulinum injections to improve quality of life.
The multidisciplinary team of neurologists, neurosurgeons, neuropsychiatrists, neurophysiologists, and physical, occupational and speech therapists have dedicated their careers to understanding and treating: Parkinson's disease, Essential Tremor (ET), Dystonia, spasticity and other tone issues, including those resulting from multiple sclerosis or neurological injury and Tic disorders.
Learn more about Inova Parkinson's and Movement Disorders Center.
MemoryBanc, Kay Bransford
As Daily Money Managers, they provide personal financial assistance to clients who are too busy or have difficulty managing their personal monetary affairs, including:
Bill pay, mail sorting, and account reconciliation
Tax organization and financial documentation
Scam and fraud avoidance
Home maintenance and service scheduling
Medical insurance and claims support
Quicken setup, management, and reporting
Agent, executor, and probate support
As members of the American Association of Daily Money Managers (AADMM), they provide the support and services to meet individual client needs and are bound by ethical standards to represent our client's best interests. From project-based organization and weekly visits, to support over extended vacations or emergency assistance, they've got your back.
There are several excellent Daily Money Managers, but Kay Branford at MemoryBanc is unique in her understanding and support of people who live with dementia. She does far more than "pay bills". She works with individuals and families who have been impacted by dementia to be sure their bills are paid regularly and securely. She monitors to be sure they are not being financially scammed and that their assets are protected.
Kay and her team always partner with other professionals to create the "senior dream team" that put the client first and create a circle of accountability around the person she serves. She coordinates with geriatric care managers, financial advisors, elder care attorneys as well as the family.
Kay also serves as durable Power of Attorney or Trustee for individuals affected by dementia and for solo seniors who need to know someone will step in and represent their legal and financial interests with dignity and integrity, if they are unable to speak for themselves.
What is particularly special about Kay Bransford and the MemoryCare team is her deep expertise in working with people with dementia. She may be there to pay bills, but she is always another set of eyes who can alert the right person when there is a change in status, either cognitively or financially.

She helps individuals and families at the beginning of the dementia journey to create a "financial road map" so that a trusted individual can take over if someone loses their ability to manage their finances. Using their award winning "MemoryBanc" system, they capture passwords, accounts and other key data so there is never a gap in essential financial activity if someone can no longer manage these responsibilities.

Finally, and most importantly, Kay and the MemoryBanc team are passionate advocates for older adults, providing educational opportunities for families and professionals and treating every person she works with, whether or not they live with dementia, with the utmost respect, courtesy and compassion.
What's Wrong with Grandma children's book, Amanda Max
Amanda Max has written a children's book to help children understand at the most basic level what Alzheimer's Disease is and looks like. This book is much needed, not only in our community but across the board. There are not any picture books for children on this disease, or any memory loss diseases. Many families in multiple counties have found the book to be supportive to them when sharing with their children the struggles grandma or grandpa are going through.
Amanda Max has spent her life as an advocate for the aging population. From volunteering at a nursing home as a child to spending the last ten years working in senior living communities, she has devoted her life to helping seniors in any way she can. Amanda is an Alzheimer's Association Support Group Facilitator and Alzheimer's Association Community Educator while she studies Leadership for an Aging Society at Virginia Tech.
Learn more about What's Wrong with Grandma, children's book.
Blog
"I like that IMCC focuses on dementia-related problems and provides a focal point for families to network and socially interact in coping with dementia. It provides a community that helps us in our struggle."