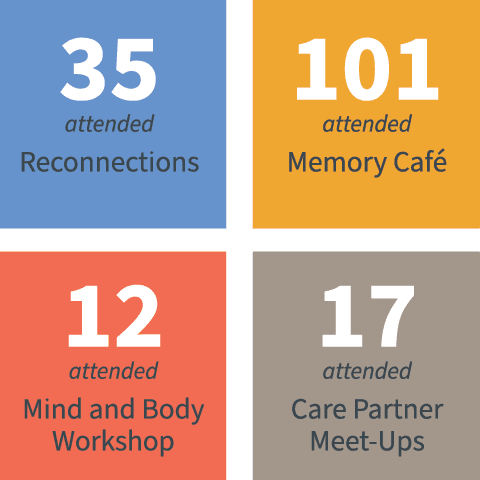 2022 Sterling Highlights
Early Stage Programs in Loudoun
Insight Memory Care Center celebrated a milestone event with the opening of its second location, an Early Stage Center in Sterling, Virginia, on January 5, 2022. It's hard to believe the Sterling Early Stage Center is now one year old!
Throughout 2022 in Sterling:
35 attended Reconnections
12 attended Mind and Body Workshop
101 attended Memory Cafe
17 attended Care Partner Meet-Ups, which began in September
Hundreds more attended education programs, both in-person and offered virtually on-demand. Topics included the Virtual Dementia Tour, Alzheimer's Disease and Dementia Care Seminar, Caregiver Bootcamp, and Covering Dementia Care: Financial Considerations.
Our Loudoun location offers our popular Reconnections early stage program four days a week. This early-stage, social model day program offers small group, engaging activities for those living with MCI or an early dementia diagnosis, surrounded by peers and in a safe, supportive, and non-judgmental setting. The program offers a chance for peer support and socialization that isn't found in many other places – as evidenced by the fact our program in Fairfax is full and often operating with a waiting list!
"The Sterling Instructors are the BEST of the best - very knowledgeable, kind, helpful, happy and welcome our suggestions. My participant feels his brain is challenged and has shown signs of improvement."   - Care Partner
We know that more than just the individual living with the diagnosis needs support. We also offer care partner education and support programs at this location as well, as we aim to serve the entire family through their journey. Sterling programs include:
Reconnections, early stage brain health program for individuals to engage and connect
Mind and Body Workshop, early stage couples engagement program to learn to live well with a new diagnosis
Care Partner Training, education programs for care partners, family, and friends
Memory Café, for families to come together for activities and fun
Care Partner Meet-Ups, began in September, offering care partners an informal way to connect
SHARE Program, for families to plan for the future
Community & Professional Training, options for your workplace or organization to learn more about dementia

View the full 2022 Sterling Highlights Report.
Learn more about our Sterling Early Stage Center, or give us a call at 703-204-4664 to schedule a tour!
Reconnections participants show off a group project

Mind and Body Workshop families learn with legos!

Memory Cafe participants celebrate the holidays!
Blog
"I like that IMCC focuses on dementia-related problems and provides a focal point for families to network and socially interact in coping with dementia. It provides a community that helps us in our struggle."