Celebrating our Social Workers!
At Insight Memory Care Center, we are so fortunate to have a fantastic team of dedicated social workers to support our families. In honor of Social Work month this March, we wanted to celebrate and share all that they do!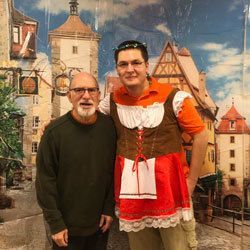 Rodney Thim
My name is Rodney Thim and I am the Director of Social Services at Insight Memory Care Center. I've been with Insight for a total of about 6.5 years if I include the time I spent volunteering and interning before I became an employee. I've spent most of my life in the Northern Virginia area and attended George Mason University where I ultimately obtained my Masters in Social Work. I chose social work because I really like the focus it puts on an individual's environment as well as the individual themselves. I was also impressed with the number of different populations you can work with as a social worker, including my favorite, those with a form of memory impairment. The memory care population is one that I clicked with instantly. I had some prior experience as a result of growing up with my great-grandfather who had Alzheimer's Disease, but I didn't know how much I really enjoyed it until I first started volunteering at Insight. The rest is history! I have loved working with our participants and families ever since! When I'm not at Insight, you can find me watching my favorite hockey team, the Colorado Avalanche, or playing with my very spoiled dog, Daisy!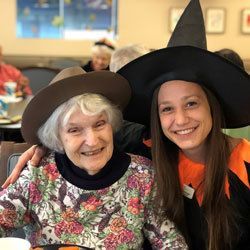 Stephanie Houpt
I have been working at Insight for the last eight years, first in the social work department, and currently as Program Director for the day center. I earned my Master's of Social Work from Shippensburg University of Pennsylvania and have a Master's Social Work License. I had always planned to work in foster care and adoption upon graduation, but after obtaining a part-time job leading activities in a memory care assisted living facility, my love and passion for supporting those affected by memory impairment was sparked, and I never looked back! When reflecting on my time at Insight, there are so many reasons why it is such a special place to be able to contribute to, but it ultimately boils down to having a truly, genuinely devoted team that is always ready and willing to come together to do whatever it takes to support our participants and their family members/care partners. No two days are alike, and seeing participants thrive and continue to enjoy a high quality of life in the midst of some very challenging circumstances makes for an unbelievably rewarding job. Outside of Insight, my husband Alex and I have a two-year old, Benjamin, and when I am not running after him, I like to bake, hike, pray, read, and go wine tasting.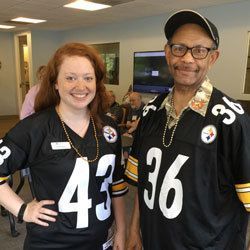 Ellie Pettoni
Hello, my name is Ellie Pettoni! I have been with Insight Memory Care Center for almost four years. I started my journey with IMCC as a Social Work Intern while working towards my Bachelor of Social Work Degree from George Mason University in 2018. After graduating, I returned as a volunteer because I fell in love with the agency's mission, loved getting to witness how beneficial and impactful their services are, and wanted to join their movement to create a more dementia-friendly community. Not long after, I was lucky enough to get hired where I ultimately ended up as a Social Services Coordinator! The social work profession's emphasis on advocating for human rights and its approach on how to help improve the lives of those in need using a holistic model intrigued me. I always knew that I wanted to work with the older adult population, and my experiences as an intern within this agency only reinstated this. I am currently working towards earning a Master of Social Work Degree from George Mason University. I hope to continue learning about additional tools and knowledge that will allow me to better advocate for those affected by dementia. My interest include hiking, traveling, watching Disney movies, and spending time with my three dogs!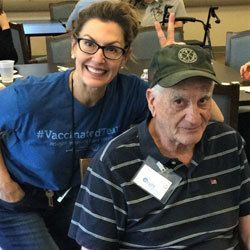 Jen Denk
I was introduced to the world of social work when my husband and I adopted a newborn baby girl. I was amazed and appreciative of the work the social worker did by supporting all parties in the adoptive process. Fast forward to 2018, I turn 50 years old, and decide to fulfill my dream of becoming a social worker. I earned a master's degree in social work from George Mason in 2020. I was introduced to this career in my last year of grad school by way of an internship at Insight and a research paper focusing on Alzheimer's Disease. The experience of the internship, coupled with the knowledge I gained from my research, cemented the fact that I had found my home with older adults and families living with dementia. Having the opportunity to work directly with the participants and their families at Insight has been one of the highlights of my life. Moreover, watching that adopted little girl, now almost 17 years old, volunteer at Insight has brought my journey full circle. I am grateful for every day that I get to spend with these wonderful participants and their families, and the Insight team. Also, in my free time I teach 6 group exercises classes a week at a local gym and study the French language.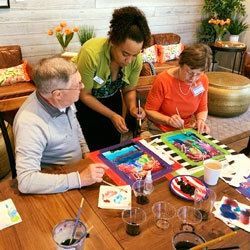 Markita Brown
I am the Outreach and Support Coordinator at Insight Memory Care Center and I am committed to service, education, and enrichment of the community. Over the past 12+ years post-grad, I have served various populations as a social worker, including: the elderly, the homeless population, domestic violence victims, troubled youth, ex-offenders and individuals that struggle with mental health, substance abuse and other life issues. Despite one's life circumstances, I enjoy aiding in the facilitation of growth where employed. I have dedicated my career to the field of social work because I have always been an advocate and confidant in my personal circles for many years.  When given the opportunity to be an agent of change, I decided that social work would be the best avenue to put my gifts and talents to work – doing what I am called to do. Later moving towards teaching and advising at GMU, I was able to marry my work at Insight and my passion to provide quality of care based on a personal journey with dementia. After saving the world before bedtime, I am dreaming of the next time I can escape to the beach.
Blog
"I like that IMCC focuses on dementia-related problems and provides a focal point for families to network and socially interact in coping with dementia. It provides a community that helps us in our struggle."