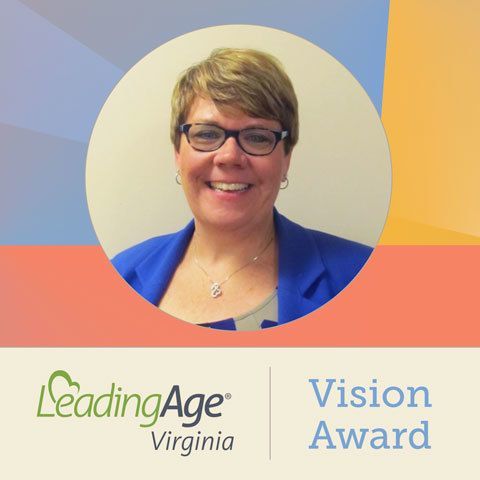 Congratulations Anita!
Winner of Leading Age Virginia's Vision Award for 2021
Insight Memory Care Center is very excited to announce that Anita Irvin, our Executive Director, has been selected by Leading Age Virginia to receive the Vision Award for 2021!
LeadingAge Virginia is an association of not-for-profit aging services organizations serving residents and clients across the senior care continuum, working together to expand the world of possibilities for aging. Their prestigious Vision Award recognizes an individual who has made an outstanding contribution to aging services, providing inspirational leadership, vision, and dedication in achieving their organization's mission. Congratulations Anita!
Anita has over 25 years of experience in the field of long-term care across multiple settings, including skilled nursing facilities, memory care communities, assisted living communities, and now Adult Day Services. Anita is a Certified Memory Impairment Specialist, a Certified Dementia Practitioner and an Assisted Living Administrator and Preceptor.
She came to Insight Memory Care Center in July 2019. Her willingness to go the "extra mile" for the families we serve was immediately evident. She was dedicated to serving both our families, along with continuing to build relationships with our community partners to provide the best services possible for all those living with memory impairments in our community. Anita truly embodied Insight's mission from day one.
Then of course, 2020 happened. Like for many organizations, the true vision and commitment of a leader has been truly tested in the wake of the COVID-19 pandemic. The population of older adults that Insight serves is especially threatened by the coronavirus. Anita's vision and leadership shone through, as she was in charge of Insight's pandemic response for both our program participants as well as part of the board and leadership staff's discussions on short-term and long-term sustainability.
Anita prioritized the health and safety of staff and families first. She provided support for staff to be able to perform their jobs from home, and then safely on-site according to public health best-practices. This was crucial to Insight's continued service to families in our community throughout such an uncertain time.
Over the last year, under Anita's vision and leadership:
Insight was able to offer virtual services beginning in March of 2020, to keep families connected and engaged while safe at home;
We began the process of gradually, safely phasing back to in-person adult day center care in July 2020 for our participants;
Concurrently, Insight developed a virtual early-stage program to ensure families' needs were met wherever they are;
Ensured all our staff and participants were vaccinated through on-site vaccine clinics in early 2021;
And finally, Insight continues to look forward in developing a hybrid approach to care, education, and support as a part of our future plans.
Anita's vision continues to help drive the organization's future and direction as we begin to visualize what programs will look like going forward through this transition period of vaccination. Insight is now working to develop and offer a more comprehensive set of remote care, education and support programs that are delivered virtually or remotely in our participants' homes. This hybrid approach to care, education and support could be implemented as a new facet of the future of Insight Memory Care Center.
We thank you, Anita, for your strength, leadership, and dedication to ensuring all in our community can achieve the highest quality of life. Congratulations on a well-deserved award!
Blog
"I like that IMCC focuses on dementia-related problems and provides a focal point for families to network and socially interact in coping with dementia. It provides a community that helps us in our struggle."