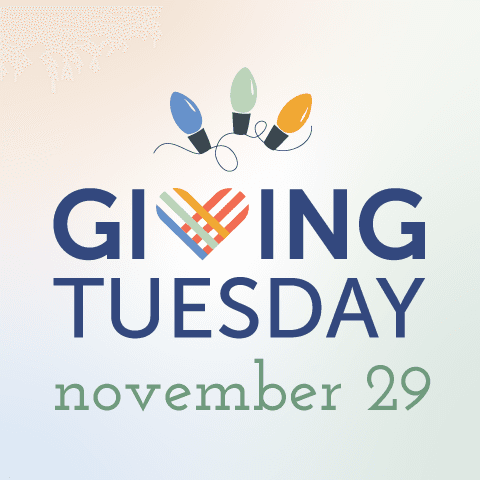 Giving Back on Giving Tuesday
4 Easy Ways to Celebrate!
Tuesday, November 29th is Giving Tuesday, a worldwide day of giving! You've probably heard of Black Friday, Small Business Saturday, and Cyber Monday as shopping days – Giving Tuesday is day to celebrate giving!
At Insight Memory Care Center, our programs rely on the generous support of donors like you. For Giving Tuesday, Insight has a MATCH of $5,000 for the day. Any gift given up to $5,000 will be matched dollar for dollar!
But Giving Tuesday is not just a day for us to ask for your support - we want to give back too! We'll be celebrating live on Facebook, LinkedIn, and YouTube all day – sharing resources, caregiving tips, advice, and stories. Tune in and we hope we can gift you with helpful tips this holiday season and beyond!
Here are four easy ways to celebrate Giving Tuesday:
1. Donate
Donate and have your gift MATCHED up to $5,000.

2. Tune In!
Follow us on Facebook, LinkedIn or YouTube as we give back throughout the day.
10:00 am | Kick-Off
Start the day with a welcome and updates from Anita and Insight staff!
12:00 pm | Innovative Activities
A sneak peek at our new Virtual Reality system!
See what's new in our day center and get some ideas to use at home too!
2:00 pm | Care Partner Panel Discussion
Tips for starting the journey off right!
Care partners in the early stages share their experiences and what they wished they had known as they started their dementia journeys.
3:00 pm | Community Resources Panel Discussion
Area resources to help this season and beyond!
Insight's 2022 Excellence in Memory Care Award finalists share area resources and tips to help you navigate through the holidays and beyond!
 
3. Help Spread the Word
Help spread the word by sharing our posts about Giving Tuesday, post on your own accounts, and send information to family and friends who might benefit.
4. Help Others Give!
Set-up your own Facebook Fundraiser to support Insight on Giving Tuesday! Facebook also matches some Giving Tuesday donations, so you can make a bigger impact on this day!
Join us to celebrate giving and giving back. Happy Giving Tuesday!
Questions about Giving Tuesday?
Contact Robin at robin.mcglothin@insightmcc.org or 703-270-0041.
Blog
"I like that IMCC focuses on dementia-related problems and provides a focal point for families to network and socially interact in coping with dementia. It provides a community that helps us in our struggle."