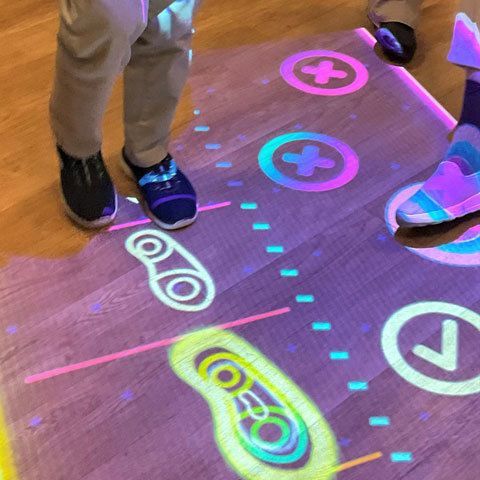 Interactive Gaming at Insight
Surely when you think of Insight, the first thing you think of is interactive gaming technology, right? Well, we are excited to add the Obie for Seniors system to our day center that uses a projector and motion sensors to turn walls, floors, and tables into interactive gaming centers!
The Obie for Seniors platform is designed specifically for individuals living with Alzheimer's or dementia. Each virtual game is research-based utilizing published studies and medical advice to encourage movement, cognitive agility, and social interactions. The system is accessible to use by all participants, regardless of their abilities, and provides staff with feedback on the users level of engagement. This interactive system provides a brand-new way for our participants to engage in high quality, activity play-based experiences and consequently feel better about their physical capabilities and improve their willingness to communicate.
So what does interactive gaming technology really look like?
We have begun using the Obie system primarily with our Coral group, who are in the later stages of Alzheimer's or dementia. While there are many ways we can use the system, we're finding initially that our participants are most engaged when we project images onto the floor. They are able to stay seated in their chairs and use both their arms and legs to interact with the various games. There are numerous ways to use the system; you can see in the photos below participants playing games in competition, interacting with sensory experiences, and enjoying some falling leaves with friends!
Beyond the physical activity it provides, we're seeing participants engaging socially as well. There is smiling and laughing among the group as they enjoy the Obie and its array of programs. We have been offering the program at least 3 times a week in our Coral group, and it's been a fun, engaging way for participants of all abilities to get cognitive and sensory stimulation, along with the social benefits of participating together. Our participants really seem to just have a great time with it!
Another way we have been using the Obie system is for individuals who wander or are restless during the day. Since it encourages physical movement, it can also be a great activity for those who don't want to sit still. We have one participant currently who fits this description, and he especially enjoys the more competitive games offered on the Obie. While he is usually quiet and more reserved, you can see him smiling, laughing, and even dancing with staff members while engaging with the Obie programs!
We are always researching new and exciting programs to add to our day center and the Obie system has certainly been a great addition so far. We are very grateful for grant funding provided by the Alzheimer's Foundation of America (AFA) to install this system at Insight!
Engaged in carnival games!

Interacting with the sensory experience.

Enjoying falling leaves with friends!
Blog
"I like that IMCC focuses on dementia-related problems and provides a focal point for families to network and socially interact in coping with dementia. It provides a community that helps us in our struggle."