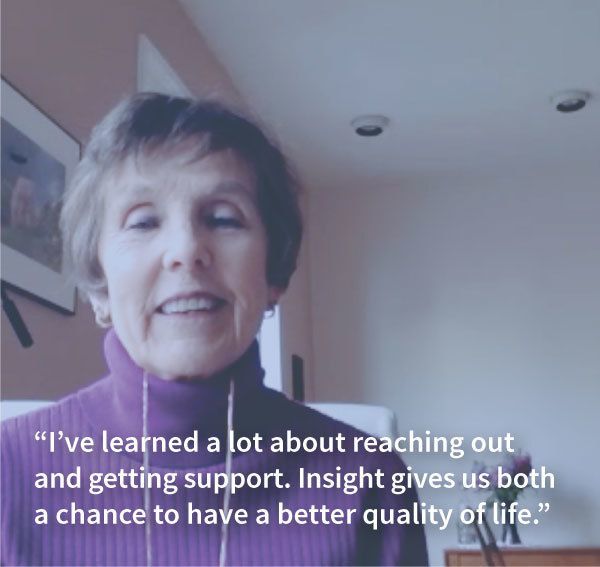 What a Difference a Year Makes!
At Insight, it's always been our mantra to focus on what a person CAN do, not on the deficits from memory loss. Who knew that mantra would be a guiding light over the past year! Since the world basically shut down last March, Insight has focused on what we could do: continue our mission of providing specialized care, support and education for families living with dementia, and build on our capacity to serve our community in new ways.
We are stronger together. The past year has created new opportunity for innovation, as we continued to provide engaging programs for those with dementia and essential support and education to caregivers.
Day Center is OPEN! After putting enhanced health and safety protocols in place, our Day Center has remained open since June 2020. We are currently at half capacity with 30 participants each day! Our staff and participants are now 100% vaccinated, allowing us to grow in-person services soon.
Early Stage Programs have grown! Reconnections is providing a hybrid of in-person and virtual programs for those with mild cognitive impairment. Just this year we've opened a new session for Loudoun residents, expanding the benefits of this popular program!
Launched our newest program – Insight at Home! This new fully virtual program reaches a whole new group of early to moderate stage individuals, providing at-home activities, socialization, and connection. Demand has grown such that we've already added additional program days this year!
Caregiver education and support is thriving. Caregivers have proclaimed the benefits of joining a support group without fighting traffic, or watching a webinar they would have otherwise missed.
We are stronger, because of what we CAN do together. As we look to the year ahead, we know we need to continue to help families in need in the Day Center through our financial assistance fund. We plan to expand our early stage programs, starting with a new in-person program in Loudoun County. As families have adapted to virtual programs, we aim to continue to expand this needed service, reaching more families in need of connection. Caregiver support remains vital, and we plan to grow our free educational resource offerings online as well.
"I can't over emphasize it. I've learned a lot about reaching out and getting support. I just can't quite imagine managing everything if my husband was home all day. And I think he would go downhill much faster. Insight gives us both a chance to have a better quality of life."
-Eileen Roehr, caregiver for her husband Casey
Learn more about how you can support our year ahead, and how we're Stronger Together.
Blog
"I like that IMCC focuses on dementia-related problems and provides a focal point for families to network and socially interact in coping with dementia. It provides a community that helps us in our struggle."