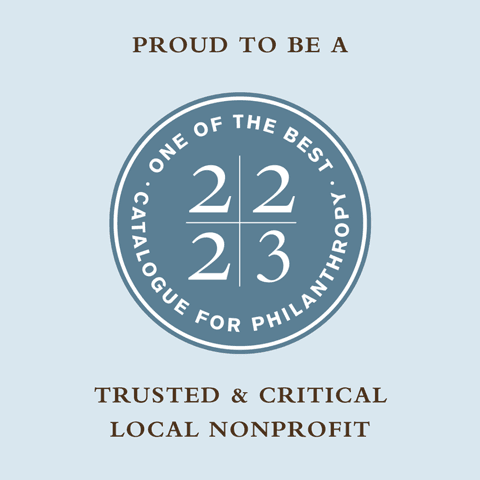 We're in the Catalogue!
After a rigorous review process, we are proud to announce our selection to the 2022-23 Catalogue for Philanthropy class of trusted local nonprofits! It's an honor to be selected by community advocates across the region based on our impact and work. This is the 20th class of nonprofit partners which have been chosen, from a competitive applicant pool, as a critical local nonprofits in the region. Insight has been honored to be included in the Catalogue each four year cycle since 2006!
About the Catalogue for Philanthropy
Created as a project of the Harman Family Foundation in 2003, the Catalogue for Philanthropy began out of a desire to help donors find and support community-based nonprofits – those with great local impact, but little visibility and limited capacity to tell their stories to a larger audience. While national databases like Charity Navigator (2001) and Network for Good (2003) were beginning to emerge, there was still no source of vetted, trustworthy, smaller nonprofits (budgets < $4 million) – especially one that was local in focus.
The inaugural print Catalogue, focused on the District, was released in 2003 and mailed to 30,000 households in the Washington region. It raised a half million dollars. In 2004 the scope expanded to cover nonprofits in nearby Maryland and Virginia counties as well. In 2006 the Catalogue became an independent public charity, and it now raises over $7 million annually for local nonprofits in the metropolitan Washington region.

Learn more about the 2022/2023 Class of Nonprofit Partners.
View Insight's Catalogue for Philanthropy listing.
Blog
"I like that IMCC focuses on dementia-related problems and provides a focal point for families to network and socially interact in coping with dementia. It provides a community that helps us in our struggle."