Overview
In keeping with our mission, Insight Memory Care Center strives to provide a comprehensive spectrum of care, support and education to those affected by Alzheimer's disease and other memory impairments throughout the course of the disease process. Located in Fairfax, Virginia, our programs are open to anyone in the DC metro area, and our caregiving resources are used across the country.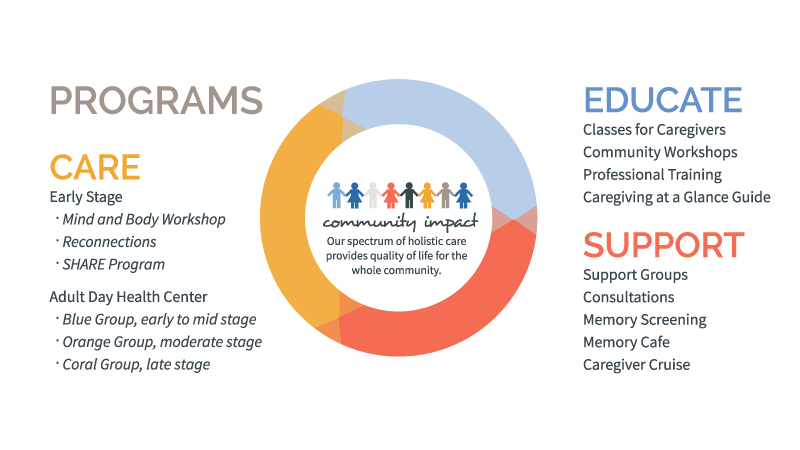 Early Stage Programs
Our early stage programming provides care and support to individuals and families who have recently received a diagnosis of Alzheimer's disease or who are in the early stages of memory impairment.
Mind and Body Workshop
The Mind and Body Workshop provides innovative interventions for families who have an early diagnosis of Alzheimer's disease or another memory impairment. The workshop is a 5 session program series for both the caregiver and the recently diagnosed individual to promote cognitive enhancement, creative expression, movement, community engagement, and overall well-being while living with memory loss.
Reconnections
Reconnections is a weekly gathering of individuals who have been recently diagnosed with a memory loss disorder. Together with professional staff, a small group of club members participate in individualized discussion groups, recreational therapies, learning experiences, and all have the opportunity for peer support and to socialize in a safe, non-judgmental setting.
SHARE Program
The SHARE Program is a series of 5 weekly sessions that provides families with a recent diagnosis of dementia an opportunity to discuss values and preferences for care, in order to build a strong network of support they can rely on now, and in the future.
Adult Day Health Center
IMCC's adult day health center provides a safe, engaging, and therapeutic environment for people with memory impairment in mid to late stages. It is the only dementia-specific day center in the DC metro area and still the only adult day health center in Northern Virginia with programs for people in the later stages of an Alzheimer's illness.
Blue Group
The blue group offers therapeutic care and programming designed for participants in the early to mid stages, offering a variety of activities to foster peer support and engagement through small group programs.
Orange Group
The orange group offers therapeutic care and programming designed for participants in the moderate stages, providing activities that create a sense of purpose and connectedness to other participants in the group.
Coral Group
The coral group offers therapeutic care and programming designed for participants in the moderate to late stages, offering individualized staff attention to enable stimulation and engagement through sensory based adapted programming.
Education and Outreach
IMCC's innovative education programs include caregiver classes, community and professional trainings, and resource publications. These programs help family members remain confident and effective in their caregiving roles and increase awareness and understanding of the disease in the community.
Classes for Family Caregivers
Free specialized classes are offered for caregivers to build their skills and confidence while learning more about Alzheimer's resources in the community. Respite care is provided during each class session.
Professional Training
With our expertise in dementia care, IMCC provides consulting services and specialty seminars for long-term care facilities and other professional groups serving older adults.
Caregiving at a Glance
A fingertip guide for caregivers, and IMCC's own unique publication, "Caregiving at a Glance" provides strategies for managing behavior challenges and planning for future care.
Support
As families are also affected by the disease, IMCC offers support groups, consultations, and memory screenings to reduce caregiver stress and provide practical solutions to caregiving challenges.
Support Groups
Led by experts in dementia care, support groups offer people in like circumstances the chance to share practical advice, discuss frustrations and fears and connect with others who are on a similar journey in a secure group environment.
Consultations
Every situation is unique. IMCC can meet with families in person or by phone to discuss a family's specific needs or challenges and make recommendations of area resources that may be appropriate.
Memory Screenings
Insight Memory Care Center offers free, confidential, face-to-face memory screenings and educational materials to people with concerns about their memory or who want to check their memory now for future comparison.
Memory Cafe
The café is an opportunity for caregivers and their loved one to meet with others for support, companionship, and fun! The program provides structured activities to promote reminiscence, cognition, and engagement. Caregivers also have the option of participating in a caregiver support group.
Caregiver Cruise
We can all use a vacation, but what about traveling when your loved one has dementia? It can certainly be difficult, and that's why Insight Memory Care Center offers a Caregiver Cruise! The caregiver cruise provides families with a chance to vacation in a safe and supportive environment.