Caregiving at a Glance is IMCC's fingertip guide for families caring for a loved one with Alzheimer's. Techniques and strategies to empower caregivers address topics such as: troublesome behaviors, communication, eating, bathing and more.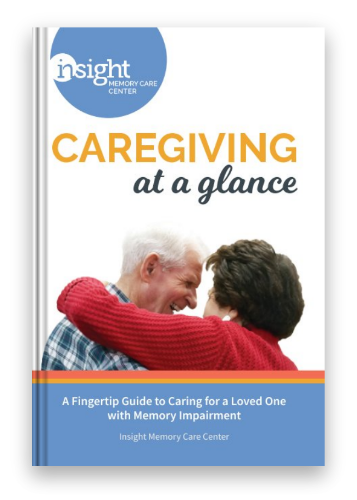 Updated 5th Edition
Brand new, updated 5th edition of Caregiving at a Glance is now available!
Inside we have compiled helpful hints and "aha's" we have heard from families at Insight Memory Care Center. While each individual's dementia journey is unique, we have found that using these techniques can empower you as a caregiver. Caregiving at a Glance will help you gain confidence and ease the burden as you walk alongside your loved one on their dementia journey.
Topics include: Diagnosis Dementia, Caregiving, Finding Additional Care, Eating and Mealtime, Sleeping, Bathing and Personal Care, Toileting, Communication, Troublesome Behaviors, Hostility and Aggression, Wandering, Activities, Tips for Travel, Home Safety, Giving Up the Keys, and a Medication Guide.
Get Your Copy Today!
Copies are available at Insight Memory Care Center, and through online retailers, such as Amazon and Barnes and Noble. Caregiving at a Glance retails for $19.99. An e-reader version will be available soon!
Or Pick Up Your Copy at Insight!
For family caregivers, we do have print and e-reader copies available for FREE, thanks to the generosity of the Dreyfus Foundation.
For professionals, nonprofits, and educators, we offer a bulk discount of 50% on orders of 10 books or more. Additional pricing and shipping options are available for over 100 copies. Please contact us for more information!
Resources
"I like the people, the programs, the support, the knowledge I gained as caregiver. That my wife flourished (and was improving, I thought) while she participated."