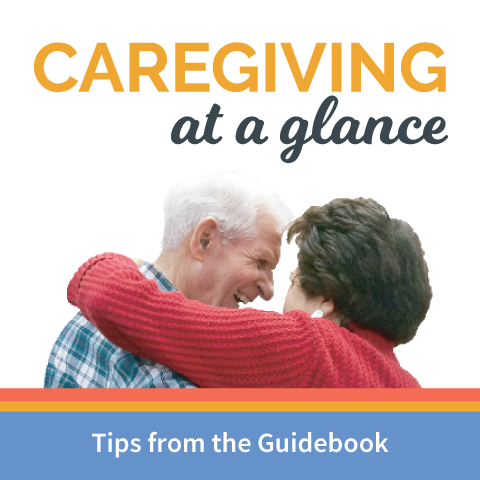 A Few Tips from the Guidebook: Caregiving
Caregiving is a long, hard, full time job and caregivers are often called the hidden victims of Alzheimer's disease. Although changes in the brain occur only in the person diagnosed with dementia, changes in behaviors, lifestyle, and demands occur for both the person living with dementia and the caregiver. There is also burden on the caregiver who has to adjust, modify behaviors, and adapt to the effects of the illness and how it presents itself in the person they love.
It can be painful to watch someone you love develop dementia, and some react with denial. A caregiver may not be able to see how bad the person is. While this denial helps decrease the devastating feelings you might have, it may also prevent the caregiver from initiating changes or learning new things that will eventually make caregiving easier.
Every caregiver has a different reason for being a caregiver. Some feel obligated and some find themselves caregiving without ever considering whether it is an obligation or a choice. Take a step back, and think of a reason why you have chosen to be a caregiver. Sometimes this perspective can help you remember why you do it.
Here are some tips for your caregiving journey.
Join a support group. There are many other people experiencing similar feelings of loss and embarrassment who will benefit from hearing from you, and you can learn much from them.
Educate yourself. You can make your caregiving role easier by learning more about the type of dementia you're dealing with.
Let other people help you. Assume the offers are sincere and allow others to help. They will stop offering when they get tired of it.
Create a list of chores or activities you can use assistance with so they can truly be of assistance.
Laugh! Some of the situations you find yourself in are downright funny. Consider it a gift and enjoy the humor.
Keep up with your own regular medical checkups. If you do get sick, make sure that you see a health care provider and allow yourself time to recuperate.
Talk to family, friends and neighbors. Isolation increases stress, so try to call or talk to someone in your circle every day.
Plan ahead. Look at adult day health centers, assisted livings, nursing homes, or other places in case you become ill and have to temporarily give up your caregiving responsibilities. Have an alternate plan.
Tell neighbors and friends generally about the condition and what they can expect. This will help ease the tension at embarrassing or difficult times.
Consult with specialists. Don't feel like you have to do it all, especially for something not in your skill-set. Contact an elder law attorney, financial planner, aging life care manager, or other professional to help.
These are just a few tips from Caregiving at a Glance, our fingertip guide for families caring for a loved one with Alzheimer's. Techniques and strategies to empower caregivers address topics such as: troublesome behaviors, communication, eating, bathing and more, all compiled from families at Insight Memory Care Center. While each individual's dementia journey is unique, we have found that using these techniques can empower you as a caregiver. Get your copy of Caregiving at a Glance!
Want to Learn More?
Join us for an upcoming Caregiving at a Glance Workshop series. A small cohort of caregivers can learn from experts in the field – and each other! – as we work through the guidebook. Check out our events calendar to find an upcoming session!
Blog
"I like that IMCC focuses on dementia-related problems and provides a focal point for families to network and socially interact in coping with dementia. It provides a community that helps us in our struggle."