Event Calendar
Wednesday, January 22, 2020 1:00 pm - 3:00 pm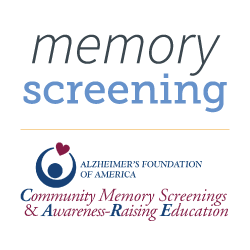 Location:
Insight Memory Care Center, 3953 Pender Drive, Suite 100, Fairfax, VA 22030
Description:
Insight Memory Care Center offers free, confidential, face-to-face memory screenings and educational materials to people with concerns about their memory or who want to check their memory now for future comparison. This is a part of the Alzheimer's Foundation of America's National Memory Screening initiative. Monthly screenings are held at our center on the fourth Wednesday of each month from 1:00 pm to 3:00 pm.

Feel free to drop in, or contact Lindsey for more information!