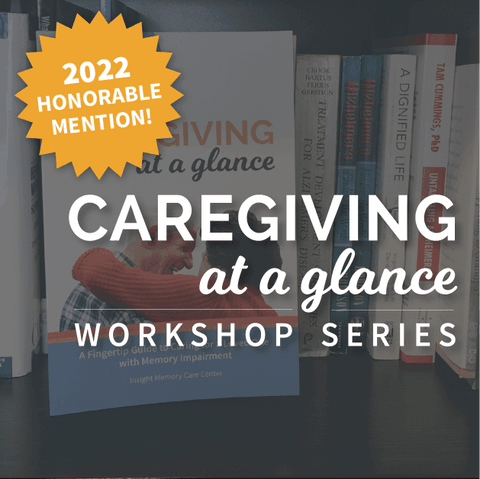 Honorable Mention for our Caregiving at a Glance Workshop!
Insight Memory Care Center is excited to share that our Caregiving at a Glance Workshop was recently awarded an Honorable Mention in the 2022 Best Practices Awards from the Commonwealth Council on Aging!
Established in 2006, the Best Practices Awards recognize and encourage the replication of model programs in Virginia, particularly that foster aging in place, livable communities and home and community-based services.
Insight's Caregiving at a Glance Workshop is a unique learning experience that brings together a small cohort of family care partners, the dementia knowledge of Insight staff, and the expertise of local professionals to explore many common caregiving topics together. The virtual, 5-week interactive series is designed that care partners can learn from experts in the field along with each other! The workshop walks through each chapter of Insight's Caregiving at a Glance guidebook, our own fingertip guide for caring for a loved one with dementia. Now in its 5th edition, the guidebook covers techniques and strategies to empower caregivers across topics such as: troublesome behaviors, communication, eating, bathing and more.
The workshop was launched in 2020 in response to the COVID pandemic. Seeing the isolation that many care partners were facing, Insight developed this new program to help care partners foster relationships, find support, and build their caregiving skills along the way. The workshop is specifically limited in size to ensure that all have the opportunity to share and contribute, and develop camaraderie among the group.
"Throughout the COVID crisis, older Virginians and caregivers in the commonwealth continue to demonstrate resilience in response to exceptional circumstances. The council awards and recognitions today provide a spotlight on the innovative work done to combat issues faced by older adults, such as social isolation, transportation and housing inequities," said Council Best Practices Committee Chair Jennifer Disano. "I offer sincere congratulations to all of the Best Practice Awardees and Honorable Mentions as well as thanks to all of the program applicants."
Insight is honored to be recognized in the company of many fantastic local organizations and initiatives. NV Rides, a program started in 2014, won the first place Best Practices Award. The program serves as a network of volunteer rides programs serving seniors and persons with disabilities in Northern Virginia. Second place was awarded to a partnership between Virginia Tech and the New River Valley Agency on Aging to virtually pair students and other volunteers from Virginia Tech with local older adults to curb social isolation. Deaf Seniors Stay Connected received third place with a free online chat program to connect deaf seniors with ASL college students and interpreters.
For a full list of winners and honorable mentions, visit the Virginia Department for Aging and Rehabilitative Services website.
Blog
"I like that IMCC focuses on dementia-related problems and provides a focal point for families to network and socially interact in coping with dementia. It provides a community that helps us in our struggle."