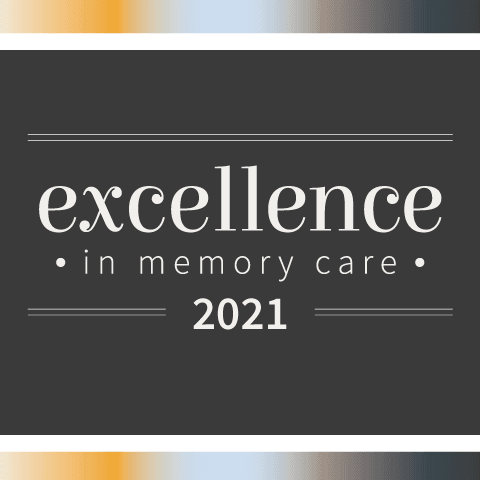 2021 Excellence in Memory Care Award Nominees
Each year at our Paintings & Pairings event, Insight honors an individual or organization that is making a positive impact on memory care in our community. Now in it's 6th year, we've had many exemplary nominees - and winners! And this year's nominees are no different. They include:
Club Memory®
Old Dominion Home Care (ODHC) Parkinson's Specialty Program (PSP)
R. Scott Turner, MD, PhD
Read more about the amazing work our nominees are doing below. Get your tickets for Paintings & Pairings on October 14th to find out who the winner is!
Club Memory®
Shruti Goel and Marti Bailey
Club Memory is a stigma-free supportive social group for people with mild cognitive impairment or Alzheimer's disease and related dementias and their care partners. Club Memory began with a small group of people coming together in Sibley Memorial Hospital's cafeteria in September 2011. Since its inception, Club Memory® has continued to grow exponentially, in response to members' and community needs. Club Memory serves all wards in the District of Columbia through a combination of a grant from Department of Aging and Community Living (formerly DCOA) and private philanthropy. According to the most recent metrics, Club Memory is now serving close to 900 participants and care partners across all 8 wards of DC.
Club Memory® is an "open house" model with independent activities for those seeking social interaction, information, and resources. At each session we offer activities such as board games, puzzles, sing-alongs, trivia, and challenges, sharing of resources and discussions. Club Memory® helps seniors to remain socially, physically and mentally active in an effort to enhance cognitive reserve. A recent report evaluating the effects of modifiable risk factors on cognitive decline and dementia concluded that there is sufficiently strong evidence, from a population-based perspective, that regular physical activity and management of cardiovascular risk factors (especially diabetes, obesity, smoking and hypertension) reduce the risk of cognitive decline and may reduce the risk of dementia. It also concluded that there is sufficiently strong evidence that a healthy diet and lifelong learning/cognitive training may reduce the risk of cognitive decline.

Recent Club Memory® surveys point to the benefits that our members and care partners report from their participation. These include new or enhanced understanding of the conditions that fall under the umbrella term dementia, feeling less isolated in their experience, reporting positive changes to their lifestyle habits like eating, physical activity, sleep and mental stimulation.
This program offers the chance for both member and care partner to forge new connections and friendships. It offers care partners a lifeline in the form of encouragement, by helping them feel less alone and by providing them with the resources they need to navigate this complex journey. In this sense Club Memory encircles both the members and their family care partners in a space of compassion, understanding and gentle guidance. Our Dementia navigators who are highly trained social workers, guide our Care Partners and Members to local resources and assist them in navigating the complex journey from diagnosis to care community placement or other end of life care options.
On a special note, during the pandemic while in-person services were largely suspended, Club Memory virtual sessions were being offered and became a lifeline for social connection for all our participants. Through these sessions Club Memory engaged members and care partners remotely while navigating a serious digital divide and combating social isolation.
 
Old Dominion Home Care, Parkinson's Specialty Program
Sue Roll and Kenny Augst
The Old Dominion Home Care (ODHC) Parkinson's Specialty Program (PSP) began in 2016 – in honor of the owners' father and others with Parkinson Disease in the community. They have worked with Movement Disorder Specialists, Speech Pathologists, and exercise experts to help build the ODHC PSP. Parkinson's Disease (PD)is a progressive neurodegenerative disease. Parkinson patients may have both physical and mental symptoms. 
Parkinson disease is most often thought of as physical disease. However, Parkinson's often has mental symptoms such as: Depression, and Lewy Body Dementia. Lewy Body Dementia symptoms may include hallucinations, confusion, poor attention, memory loss, and sleep difficulties. Safety and oversight are key components while working with Parkinson patients and balancing the medications of PD patients is one of the most difficult things to manage, as they suffer from both physical and mental symptoms.
They use a team approach with their nursing, caregivers, and office staff, making sure each understands the benefits of Parkinson specific training, and how this education leads to better care and a better quality of life for those with PD and their loved ones. Parkinson specific training begins for our caregivers at orientation. The nursing team at ODHC attends various trainings during the year to insure they are up to date with the best practices in providing care for our Parkinson's clients. 
Over the years ODHC has developed professional relationships in the Parkinson community, working with and supporting neurologists/ movement disorder specialists, speech/occupational/physical therapists, exercise providers, PFNCA and IMCC. They were guest presenters on the "Aging Matters" local radio program WERA 96.7 in 2019 where they helped spread the word about what PD is and how those with the diagnosis may strive to lead their best quality of life.
ODHC's approach is twofold, they are here to provide care to those with Parkinson's and to ensure the staff at ODHC is thoroughly trained on the different aspects of the disease and how best to provide care. Secondarily, they continue to work in the community to provide awareness of Parkinson's and to educate. Their nursing team offers educational presentations to senior communities and their staff on the best practices for Parkinson patients. They also facilitate two PD support groups – one in Alexandria, which they have led for 5 years, and a second, in partnership with Parkinson Social Network and Virginia Hospital Center, in Arlington. ODHC strongly believes in the importance of community involvement, human connection, support for and providing resources to our friends of the PD community. Their support groups went from in person once monthly to twice a month virtual meeting during the Covid 19 Pandemic. Times may be trying but ODHC tries to make a real difference by providing the care and additional resources needed.
 
R. Scott Turner, MD, PhD
Dr. Turner is the Vice Chair for Clinical Research, Professor of Neurology, and Director of the Memory Disorders Program at MedStar Georgetown University Hospital and Principal Investigator at Re:Cognition Health USA.
Dr. Turner is the go-to for dementia-related research in the DC metro area. He can take medical information and make it accessible to caregivers, while also amplifying the experience of families with dementia in the community. Dr. Turner provides a broad range of diagnostic, management, and treatment services to people with Alzheimer's disease and memory disorders associated with aging. He is committed to providing the best clinical quality and the best customer experience in mental health diagnostic and treatment services for the benefit of his patients and families. 
In addition to being a leader in Alzheimer's and related disorders clinical trials, Dr. Turner sees patients in neurology and is a professor in the department of neurology. Dr. Turner has been Director of Georgetown Memory Disorders Program since 2008 and has built an excellent and dedicated team of clinicians and staff to provide high quality neurology care and clinical trial participation to patients and families. The mission of the Georgetown University Memory Disorders Program is to prevent and treat Alzheimer's disease and related dementias by conducting innovative research, educating, and training healthcare professionals and the public on research advances, and offering state-of-the-art clinical care. The clinic offers a variety of diagnostic techniques, including neuropsychological tests, blood and urine analyses, clinical trials of new medication, and other research aimed at treatment and diagnosis.
Dr. Turner has also taken on the role of being the Principal Investigator for Re:Cognition Health USA. His newer position with Re:Cognition Health USA allows him to serve more of Northern Virginia. Re:Cognition Health Fairfax opened its doors in May 2018 is led by Neurologist, Dr. Scott Turner. Currently, the clinic is specializing in phase 2 and 3 pharmaceutical trials focused on finding a disease-modifying medication to treat those suffering from Mild Cognitive Impairment and Alzheimer's Disease. The research team working under Dr. Turner is made up of a variety of professionals committed to the highest quality care and patient satisfaction. Dr. Turner is responsible for oversite of the studies making sure everyone is trained, that the studies run smoothly, and achieve their goals. I am here to help answer questions and support of the patients and the families.
Dr. Turner is a sought-after contributor and has been generous with his time and expertise. Contributing to Alzheimer's and dementia research and care through UsAgainst Alzheimer's, Alzheimer's Association of the National Capital Area, Northern Virginia Dementia Care Consortium's Caregiver Conference, and Insight's Caregiver Bootcamp, to name a few.
Join us for Paintings & Pairings on October 14th where we'll announce the 2021 Award Winner!
Blog
"I like that IMCC focuses on dementia-related problems and provides a focal point for families to network and socially interact in coping with dementia. It provides a community that helps us in our struggle."